Please Support Our Class Website in 2015. Can you chip in today?
All contributions will be DOUBLED through March 31!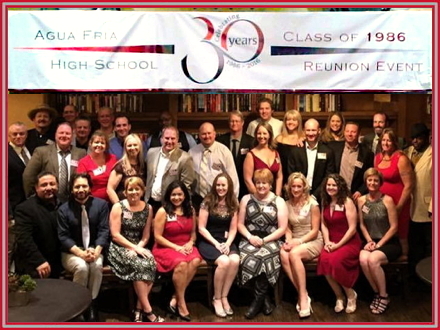 Carl Johnson prepares to enjoy the catch of the day
at a pub in a local fishing village.


This site is operated and funded by members of our class.
Class Administrator: Steve Leuniz*
Page Hits: 48,057


Event Announcement!
---
Happy Birthday to

Gabe Vizzerra
in Avondale, AZ!
Monday, March 30, 2015
---
Saturday, January 2, 2016
New, Easier-To-Remember URL!
...be sure to make a note of it.
Click to Like us and Tweet our URL...
...and be sure to Like our Facebook page too!
---
Meet Your Handy Helpful Hosts...
Sunday, January 3, 2016

Word Is Getting Around...

..Tell Someone You Know Today!
---
Let Us Peek Into Your Private Life!
Monday, January 4, 2016




Please send us any recent personal photos you may have from the reunion or your current lives (friends, family, vacations, events, etc.) in which you yourself also appear to be used for the Homepage Photo at the top of the page. You may also send any current clear face shot of yourself for your official NOW profile photo (if you don't already have one or would like to update it) or a past or present one to be used in an upcoming Photo Gallery Spotlight. Photos will be added as received, so check back again. E-mail all photos you would like to share for editing & inclusion via the corresponding buttons at the bottom. Thanks for your contribution and for keeping our site updated and timely!

SEND IN YOUR PHOTOS! Click one of the buttons below to submit either

A) Your current portrait for your official profile "Now" photo, or along with any younger portraits to be featured in an upcoming Photo Gallery Spotlight, or

B) Any snapshots of yourself in your life today (appearing with family, friends, on vacation, at special events, etc.) for the main Homepage Photo at the top of this page:

*All other snapshots of family, friends, places or events in which you yourself do not appear may be added directly to your profile using the upload options outlined when editing it.
Welcome to our little nest on the Internet
...thanks for "popping in" and saying hello!
---
Here's To A Remarkable 20 Year Reunion!
Tuesday, January 5, 2016
Hey everyone...

I just have to say thank you so much for making our reunion weekend a huge success. We worked so hard and anticipated a great time, but often times great expectations fall short. I am so pleased to say that all the time, effort and money was well worth it and in my opinion nothing could have been better. The feeling I had is still with me personally and that kind of warmth and comfort is invaluable. I feel that this whole experience was one of the most rewarding emotional investments I have made as well as one of the best weekends I have had in a while -- I didn't want it to end!

And it really doesn't have to. Those who aren't local can still keep in touch here and we would also love to hear from those who were unable to attend. There is never a fee or any commercial advertising or business interest to use any part of this site. It is for us only, and anyone can contribute and let us know what is going on in their life by updating their profile, "now" photo, posting new photo links and keeping the message board active. It is great to see so many with links to their personal and business websites too. In addition, feel free to send someone your wishes when you see an upcoming birthday or a prayer that someone wants to share. My goal is to preserve this feeling which I have (along with many others I have heard from) and keep the sentiment alive on this site.

Again, many thanks and I promise to do my best to keep this site an inviting place for all of us. You are welcome to post upcoming planned events or smaller, unofficial get-togethers in any city in the message boards, so we don't have to wait for a big 10-year celebration or to purchase tickets when we want to catch up in person. Please feel free to e-mail me with any questions, concerns or submissions regarding this site at any time. On behalf of myself and the reunion committee, we wish you many more memorable moments with your current families, friends & loved ones in the years ahead. Just remember that you also have a family waiting right here whenever you feel the need to reconnect or share, or maybe just escape the daily grind and step back in time to keep a part of your youth alive with those who lived it with you. In an age of uncertainty, it is a bond we share that will never go away, no matter where our lives lead us.

Sincerely,

Steve Leuniz
Class Administrator
---
HIGH SCHOOL FLASHBACK SONG
(1982-86)
Wednesday, January 6, 2016
"Key Largo" (Bertie Higgins): 1982

*NOW TAKING REQUESTS: Click the button below to have a favorite song released or charting from 1982-86 featured or dedicated on the site within the next week!
---
Questions? Comments? Concerns?
...Give us a hoot!

---
Class News

4/8/2009
Reached a milestone in your life recently?
If you have or plan to get married, celebrate an anniversary, have a baby, receive an award, win the lottery, retire, go on a major excursion, get engaged, relocate, suffer an accident or ma . . . Continued

6/13/2006
Get Your ASTERISK In Gear!
All alumni with a recent "Now" photo posted with their profile have an asterisk (*) appearing after their current last name. Names without asterisks are displaying old photos only or none a . . . Continued


Look Whooooooo's Talking...
Keep an eye on the message board below and jump on in!
Our Class Message Board
Your participation is requested!
We would like to hear from you. Post your messages here.

ADD NEW VIEW ALL

Indicates an included photo
| | |
| --- | --- |
| Found Brian Sullins | Philip Sadler* |
| Address is [PRIVATE INFO SUPPRESSED] Spo | Mon 12/20/2010 10:13 AM |
| Billy Belford is Not Missing | Stephen (Steve) Schieszer* |
| Billy has two children, who have come th | Wed 11/3/2010 3:58 AM |
| A Tragic Loss... | Steve Leuniz* |
| We are deeply saddened to report the los | Thu 5/20/2010 7:15 PM |
| Message | mickey |
| Happy early birthday Berta Gonzales Muse | Sun 9/20/2009 9:28 PM |
| Message | Steve Leuniz* |
| She WAS on Facebook for like 2 days and | Thu 8/6/2009 2:01 AM |
| Stacey Baker Elam | Scott Fitch* |
| Anyone heard from Stacey Baker Elam? | Wed 8/5/2009 8:31 PM |
| SWEET!!!!! | mickey |
| It is so nice to know that even though w | Wed 7/29/2009 11:12 PM |
| Happy Birthday | mickey |
| Happy birthday Anne!!!!1 and an early HA | Wed 7/29/2009 11:10 PM |
| Alumni News | Dawn Elbert Cole* |
| When Randall McDaniel strides to the pod | Fri 6/12/2009 6:35 PM |
| Engagement | Denise Bell* |
| Getting married in September!!!! | Tue 4/7/2009 3:16 PM |
| Get together!!! | Kaki Hunt Conner* |
| We are getting together this Monday the | Fri 4/3/2009 4:06 PM |
| Whats UP!!!! | Stephanie Bayles Smith* |
| I have been in contact with "some" and I | Mon 3/23/2009 12:44 AM |
| Dana Hamilton | Carol Barden Doroshuk |
| Thanks for trying to help, Mickey. I do | Tue 12/30/2008 7:32 PM |
| Photo change! | Tim |
| Steve, buddy! For the love of god, let u | Sun 12/7/2008 1:02 PM |
| Thanks Steve for this website | mickey |
| Steve I want to thank you on behave of t | Fri 10/3/2008 2:53 PM |
Today's Featured Biography
After graduation I attended Phoenix College for 1 year, decided that I wasn't ready for the college path and so I blindsided my parents by joining the Navy. I think that with 5 daughters they had never really considered the whole military path but they are very proud of my military service and also that of my baby sister, Rosemary, who is currently serving with the JAG Corp. in Washington, DC.

I served in the Navy for 4 years from 1988-1992 (Desert Storm) as a Machinist Mate. I served in the Engineroom of the USS Samuel Gompers (AD-37) which was a Destroyer Tender (repair ship) homeported out of NAS Alameda, CA and went on two Western Pacific deployments.

As for my occupation, I really still haven't figured out what I want to be when I grow up. However, I've been a Legal Secretary for the past 12 years or so. But I've also done various other things throughout the years, like work for America West Airlines as a reservations agent and a stock clerk, Secretary for the City of Phoenix, Justice Court Clerk and Legal Secretary for Maricopa County, Legal Specialist for Raytheon - Space & Airborne Systems. I am currently working as an Executive Administrative Assistant to the Chief Legal Officer at Res-Care, Inc.'s corporate offices. I am basically a jack of many trades and have decided that if I ever win the lottery that I'm going to go and push the hot dog or ice cream cart at Disneyland. So if you see me there someday, don't be surprised! : )

I was married December 9, 2006 and my husband's name is Roy Stapleton (I know I'm a late bloomer). Roy and I met when we were both in Machinist Mate "A" school at NTC Great Lakes, Illinois and dated briefly before the Navy put an ocean between us by giving him orders to the USS Midway (CV-41) in Yokosuka, Japan and me orders to the USS Samuel Gompers (AD-37) in Alameda, California. We kept in touch and I did see him when my ship went on a Western Pacific deployment.

He managed to get orders to the San Francisco bay area, after his time on the Midway was up, near where I was stationed, but things just didn't work out the second time around. However, I dropped him a line in 2005, found that he was single again and that there was still "something" between us. So he moved out to CA in November 2005 and we started working on us. I accepted his proposal in July of 2006 and we quickly planned our wedding in order to ensure my baby sister Rosemary could be a part of it before she deployed to Afghanistan in early 2007.

While I have yet to be blessed with children of my own, I do have 11 children in my life. My sisters have all been married and all have been blessed with kids which I borrow from time to time (they are cheaper that way!). Some of you may remember my two older sisters Susan (Class of '84) and Olivia (Class of '85). Susan has 3 kids and Olivia has 2. My two baby sisters (also AFUHS Alumni), Rosemary and Roberta each have 1 kid. I also have been blessed with 2 great-nieces and 2 great-nephews from Susan's oldest son & daughter. My nieces and nephews are my pride and joy and manage to keep me young and broke!

I lived in Goodyear after the Navy up until 2003 when I moved to Culver City, CA. I guess the Navy softened me up and the summers were just killing me! My husband and I moved to Jeffersontown, Kentucky in 2011 thanks to him finding a job out here, but it just doesn't feel like home and I really miss being closer to the coast. However, my parents and 3 of my sisters are still living in Goodyear/Avondale and so I may find myself living back home again or, hopefully, in the cooler parts of Arizona someday. : )


Family News Summary
Enter your Family News Item choosing from our pre-defined categories:
Anniversary, Award, Birth, Death, Diagnosis, Engagement, Graduation, Lottery, Retirement, Vacation, Wedding, Other.
Death
It is with heavy hearts that we have learned of th
Posted by: Steve Leuniz*

1/29/2013

Job/Career
At the end of the 2009-2010 school year, I was rec
Posted by: Stephen (Steve) Schieszer*

10/26/2010

Death
We are deeply saddened to report the loss of fello
Posted by: Steve Leuniz*

5/20/2010

Update
Regarding recent update: Robert Morales disappe
Posted by: Steve Leuniz*

9/17/2009

Birth
Hi everyone, Just to let you know that I gave bir
Posted by: Gina Doubleday*

11/26/2007

Death
Hello AF 86'rs... Those of you who have checked
Posted by: Steve Leuniz*

10/9/2007

Birth
Brigitte Opel: Baby Girl Sophie was born on July 1
Posted by: Brigitte Opel*

10/2/2007
Calendar
There are no Calendar items on file
at this time.

Today's Featured Class Member Website
Classreport.org provides free Class Websites for every graduating class of every high school with free access for all.
No Ads, No Spam, No Pop-ups, No Fees.
Class Support Status

OUR CLASS SITE IS FUNDED THROUGH
February 2015
---
This site is funded by our
Voluntary Contributions

Click Here to Chip In


Class Directory
| | | |
| --- | --- | --- |
| | | |
| | 208 | |
| | 108 | |
| | 4 | |
| Total On File: | 320 | |
| | | |
| | 6 | |

Where in the world are you? Stats
Recent Profile Updates
| | |
| --- | --- |
| | Mar 21 |
| | Mar 18 |
| | Mar 14 |
| | Mar 8 |
| | Mar 6 |
| | Mar 5 |
| | Mar 1 |
| | Feb 21 |
Class Poll
There is no Active Poll
at this time.
Visit Other Classes
The Office
(Admin use only)
If you have any questions or comments regarding this website, please contact:

Class Administrator
Steve Leuniz*

Would you like a sneak peek at a
non-functioning view of The Office?

This class reunion website is a complementary addition to your existing alumni resources.
It is a product of Classreport, Inc. and may not be affiliated with Agua Fria High School or its alumni association.

Does your High School Class have a full-featured Alumni Website? Start One Now!
(Or start one for your Mother, Father, Sister, Brother, Spouse, Son, Daughter, Friend . . .)



"Thank you so very much for this wonderful site to help people connect again." 12/4/2014


"I want to take this opportunity to let you know that my entire class and I enjoy your hosting. As class admin I have not gotten one single negative complaint. Keep up the good work, and again Thanks!!" 11/25/2014


"Most of the credit for our site goes to your Classreport capability. It really makes creating and maintaining a high school class website easy, even for someone who doesn't know much about html. I'm no expert by far but have learned a lot working on our class website. Thanks to you all for this great website capability." 11/22/2014


"Thanks so much for the website. You folks have rendered a wonderful service to high school graduates all over the world." 11/20/2014


"Love the site!" 11/16/2014


"I must send you a HUGE thank-you for all the different things we are able to do with the tools you have provided. I was able to print out the name tags with pictures on them - big hit! Downloaded a memory book to flash drives and gave out at the reunion. Very easy to work with everything on this website. THANK YOU!" 11/13/2014


"Great Site!!! Thank You!!!" 11/12/2014


"I like the website and I think the committee for our class did a wonderful job setting it up." 11/7/2014


"Thanks to your wonderful site, we had a truly great turnout for our Reunion! This site has been a terrific help!" 11/6/2014


"You all do a tremendous job of keeping our websites running smoothly and making our jobs much easier with this awesome service!" 11/4/2014



More bravos at: www.classreport.org/bravos




12th Anniversary!

Search All Schools Best Classes Reunions Features Setup Your Class FAQ Funding Our Story Support Privacy Policy We DO NOT sell advertising to support this site. We DO NOT sell names and addresses to third parties.
There are NO POP-UP ads. There are no registration fees required for participation.
Please support this site with your voluntary contributions.
We cannot provide this service without your support. Thank You! Read Our Story

ClassTraQ 9.6001a Software Copyright © 2003 - 2014 Classreport, Inc. All Rights Reserved e0