No Ads. No Spam. No Pop-Ups. No Fees. Read Our Story.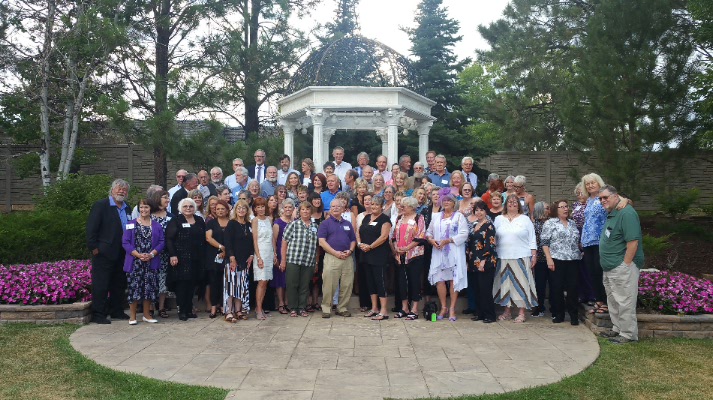 We still have many classmates we are not able to locate through all our resources. If you can help us, it will be greatly appreciated. Call or email Stanleigh or Dotty and we will update the website!


This site is operated and funded by members of our class.
Class Administrator: Stanleigh Snyder Chism
Page Hits: 63,977


45 Year Reunion Announcement!
---
2 Day Event. The First Event is: Mixer on Friday
Friday, August 15, 2014 - 5:30 pm
Choppers Sports Grill (Formerly Rick's Cafe) 80 S. Madison St, Denver, CO in Cherry Creek, Bayaud Ave/Madison St
Mixer is free. There will be a cash bar and food available to purchase.
We would like you to register even though this event is 'free'. We need an approximate count for the owners.
PLEASE REGISTER SEPERATELY FOR EACH EVENT BELOW.

This wonderful event is very casual and enables us to mingle with each other with a patio and indoor venues. You might remember it when you came to the 40th Reunion. This is the same place!!!

The back room has been remodeled and is so much better. We know you all will like it. The food is still good. The prices are still good. So... Check out www.chopperssportsgrill.com

LET EVERYONE KNOW! We will email the ones that have good addresses on this website.
Also we will snail mail a post card to the ones that have good addresses.

UPDATE YOUR BIOGRAPHY!!! Let the ones we cannot get a hold of to update theirs too. After a few years, their emails have changed, or they have moved and their mailing address' we have are not good. Thank you.

We hope to see you all there! It will be fun to catch up with everyone!

COME BACK HERE OFTEN TO SEE ALL WHO IS COMING!!!

Any questions, you can get a hold of Stanleigh or Dotty.

Stanleigh- lionsmayn@msn.com
Dotty- dottyd@att.net


Event Contact: Stanleigh Snyder Chism
Look Who's Coming!
Make Checks Payable To: Free but donations are appreciated! Make checks payable to South High 69.
Mail Payment To: Stanleigh Chism. 15326 W. Catalina Ct. Goodyear, Az. 85395
---
2nd Event: Pancake Breakfast on Saturday, 9am to 11:00am (Please read location change below)
Saturday, August 16, 2014 - 9:00 am
Hopefully at South School Senior Hall and courtyard. If school is closed we will have it at near by OBSERVATORY PARK. A change from Washington Park. See below for details!
$10 per person, either in advance or at the door
PLEASE REGISTER BELOW FOR THIS EVENT
If you want to pay for it in advance, send payments to Stanleigh
If you want to pay at the door, that will be ok too.
Thank you

This really fun breakfast will include:

pancakes, sausage, scrambled eggs (with toppings), fresh fruit, orange juice, regular and decaf coffee.

This event is really fun. It allows us to be at the school and hopefully tours if the school is open. We cannot definitely say it will be open, because they are doing major renovations and asbestos remediation.

*******************A CHANGE OF LOCATION*******************
PLEASE READ!
AS OF JUNE 16, 2014 THIS CHANGE WAS MADE!!!

If the school is not open, we have a back-up plan at the OBSERVATORY PARK north picnic area. 2930 E Warren Ave, Denver, CO 80210.
We could not get Washington Park this year...sorry!

As always, our first option will be the school. If you go to the school on Saturday and find it is not open, just drive over to Evans then east to Fillmore or Milwaukee St turn south and park anywhere except on Warren Ave. There is only 1-2 hour parking on Warren Ave. The north picnic area is where we will be. Bring folding chairs and blankets, there are only 6 tables!

The Observatory building is not open to the public and is owned by D.U. So there will not be any tours of that facility!

We hope to see you all there.

The Planning Committee Members:
Deb Markkanen Stidham - Chairman
Barb Graham Wright
Ron Thorn
Ted Atlass
Jackie Solt
Patti DiTolla
Holly Dickson
Bill Metzger
Dotty Hines Davis
Stanleigh Snyder Chism

REMEMBER TO CHECK BACK WITH US HERE OFTEN TO SEE ALL WHO IS COMING!





Event Contact: Stanleigh Chism
Look Who's Coming!
Make Checks Payable To: South High 69
Mail Payment To: Stanleigh Chism : 15326 W. Catalina Ct. Goodyear, Az. 85395
---
Donations For Our 50th Reunion in 2019
Saturday, August 17, 2019
Our 50th in 2019 is going to be a BIG EVENT and a milestone for us!

We are asking and will greatly appreciate any donations to help with getting early reservations for locations and catering if we need it. Also to help with mailing, and other resources.

We will work on it through the next 5 years so we can get the invitations out to you real early so you can make plans ahead of time!!!! We really want everyone to enjoy it.

Thank you,
Reunion Planning Committee

************************************************

This reminder will remain up until 2019



Thank you so very much!


Event Contact: Stanleigh Snyder Shism
Make Checks Payable To: South High 69
Mail Payment To: Stanleigh Snyder Chism, 15326 W Catalina Ct., Goodyear, AZ 85395
---
Class News

10/23/2012
Two announcements this month
1. PHOTOBUCKET IS BEST SITE FOR - Slideshows - Group Slideshows - Videos Photobucket.com now offers UNLIMITED photo uploads with their free membership. This should allow you . . . Continued

2/1/2011
SIGN UP FOR A MEMBERSHIP TODAY!
Membership includes the Alumni Newsletter! (And helps the Alumni Association) DON'T MISS THESE ARTICLES! 1969 STATE CHAMPIONSHIP (The Alumni needs your stories from this game for th . . . Continued

9/10/2010
LET'S REMEMBER TO UPDATE OUR PROFILES
I just wanted to take a minute of your time to touch base with you on a few things. ***IT'S TIME TO UPDATE YOUR PROFILE****** Keep all of us informed on what's happening with you. W . . . Continued


Our Class Message Board
Your participation is requested!
We would like to hear from you. Post your messages here.

ADD NEW VIEW ALL

Indicates an included photo
Today's Featured Biography
We have worked overseas for a period of 13 years, from 1977 through 2005.

Tom and I have been married for 41 years...woo hoo!!!!!

Aimee is married and has two little boys, Keegan (9) and Elias (8), so I have two darling, very active little grandsons...who are getting bigger as the days go by!

Emily has her own home now, working with a non-profit organization, and completed her Masters in Accounting.

Tom works as a civilian Family Physician for the Air Force.

Retirement is not yet in the picture.


Family News Summary
Enter your Family News Item choosing from our pre-defined categories:
Anniversary, Award, Birth, Death, Diagnosis, Engagement, Graduation, Lottery, Retirement, Vacation, Wedding, Other.
Death
Judy Stretz Dodge – 06/20/51 - 10/07/13 Services
Posted by: Dorothy (Dotty Sue) Hines Davis

10/10/2013

Death
Joyce Cochran Morganfield passed away after a 6 1/
Posted by: Patricia McCarthy DiTolla

8/9/2013

Death
Paul Walters per South High Alumni Report died in
Posted by: Dorothy (Dotty Sue) Hines Davis

1/21/2012

Death
Gail Jacoby, Dec 9, 2011. Gail Jacoby passed away,
Posted by: Dorothy (Dotty Sue) Hines Davis

12/19/2011

Death
Patricia "Pat" Brown Ulibarri http://www.findag
Posted by: Andree Brown Swanson

5/21/2011

Death
Patti Brown Ulibarri died April 24, 2011 from panc
Posted by: Dorothy (Dotty Sue) Hines Davis

4/27/2011

Death
Steve Dahl died in Peyton, CO, April 29, 2010.
Posted by: Dorothy (Dotty Sue) Hines Davis

9/24/2010
Calendar
There are no Calendar items on file
at this time.

Classreport.org provides free Class Websites for every graduating class of every high school with free access for all.
No Ads, No Spam, No Pop-ups, No Fees.
Class Support Status

Our Class Site is Fully Funded!
Additional contributions are welcome and will be used to provide support for the larger Classreport community.
CLICK HERE TO LEARN MORE
Recent Profile Updates
| | |
| --- | --- |
| | Jul 30 |
| | Jul 30 |
| | Jul 30 |
| | Jul 30 |
| | Jul 29 |
| | Jul 28 |
| | Jul 28 |
| | Jul 23 |
Visit Other Classes
The Office
(Admin use only)
If you have any questions or comments regarding this website, please contact:

Class Administrator
Stanleigh Snyder Chism

Would you like a sneak peek at a
non-functioning view of The Office?

This class reunion website is a complementary addition to your existing alumni resources.
It is a product of Classreport, Inc. and may not be affiliated with South High School or its alumni association.

Does your High School Class have a full-featured Alumni Website? Start One Now!
(Or start one for your Mother, Father, Sister, Brother, Spouse, Son, Daughter, Friend . . .)



"I have to tell you that I LOVE your site! I have used it to plan several reunions now and I so appreciate your efforts and support. Thanks so much!" 7/9/2014


"This is the supreme class reunion program out there. Those other sites charge you for almost everything you use or research. My advice to all the classes out there - give yourself a break including your wallet, and do the organization yourself with the fine help of this awesome program. Classreport is the Epic Smart way to manage your class activities and reunions. We consider this program as a legacy to our classes." 5/22/2014


"Without this top-drawer of a web site, keeping up-to-date on activities of fellow alums would be absolutely impossible…THANK YOU to all who are keeping it going!" 5/15/2014


"Everything you are doing is so appreciated! This site is very effective." 5/1/2014


"Thank you so much for this! We have been so delighted with our site since we opened it, and the class is very supportive of it as well." 2/26/2014


"You have built a fantastic website and I try to tell a lot of people about it!" 2/22/2014


"Your site has been so helpful with planning our reunions, making up booklets, badges etc. Couldn't have done it without you. Hope the site continues it's success." 2/17/2014


"Thank you, the site is nice!" 2/15/2014


"I am so enjoying reminiscing over so many memories! Thanks for putting this together." 2/14/2014


"I appreciate using your web site! I heard about your site from our reunion committee who are hoping to use your site to locate and inform class members." 2/12/2014



More bravos at: www.classreport.org/bravos




10th Anniversary!

Search All Schools Best Classes Reunions Features Setup Your Class FAQ Funding Our Story Support Privacy Policy We DO NOT sell advertising to support this site. We DO NOT sell names and addresses to third parties.
There are NO POP-UP ads. There are no registration fees required for participation.
Please support this site with your voluntary contributions.
We cannot provide this service without your support. Thank You! Read Our Story

ClassTraQ 9.6001a Software Copyright © 2003 - 2014 Classreport, Inc. All Rights Reserved e1