SHS Class of 1966
P.O. Box 854
Shawnee, OK 74802



Click the link that says
First Visit Here?
Click the letter corresponding with your last name at graduation.
Click your name.
Submit as much information as desired.
Problems? Contact the Site Admin!
---
This site is operated and funded by members of our class.
Class Administrator: Allen Flick
Page Hits: 74,610


Event Announcement!
---
70th BIRTHDAY PARTY for CLASS of '66
Saturday, June 9, 2018 - 6:30 pm
Shawnee Elk's Lodge
$20/person

Join the Party!! as we all turn 70 years young!


(If we haven't already reached that mark.)


A one night event with all the pizza you can eat and live music of the '60s we all loved back in our youth.

Mark that date! June 9, 2018

Pizza - Music - Dancing - Conversation

Registration Form ... click Reunion Documents below

Event Contact: Esther Alcorn Brazeal, 405-848-2278
Make Checks Payable To: SHS Class of 1966
Mail Payment To: SHS Class of '66, P.O. Box 854, Shawnee. OK 74802
---
Event Announcement!
---
Until Our Next Reunion Romp
Enjoy the 1966 Caldron Flip Book
---
Class News

4/8/2018
Another Teacher/Coach dies: Christine Reynolds
Mother to our class mate Janene Reynolds Cagle, Christine L Reynolds passed away in Fresno, CA, where she lived near Janene. Christine's obit is on her profile here with the class of '66, as . . . Continued

3/6/2017
Coach Peewee Williams Passes
Bob R. Williams, 92, of Earlsboro, died Thursday, March 2, 2017, in Edmond. Many people will miss him & recall a multitude of different personal experiences. See his obit at the followin . . . Continued

8/1/2016
66 Class Member Named to Alumni Association Board
With some resignations and active participation reductions, Esther Alcorn Brazeal was named to fulfill one of the opened seats. Esther has been an active participant for years in our clas . . . Continued


Our Class Message Board
Your participation is requested!
We would like to hear from you. Post your messages here.

ADD NEW VIEW ALL

Indicates an included photo
| | |
| --- | --- |
| Charles Brodt leaves for the afterlife | Class Site Admin |
| On Jan 31, 2018, Charlie Brodt left us f | Sat 2/3/2018 3:05 PM |
| Patricia (Medley) Simms leaves us. | Class Site Admin |
| A beautiful member of our class, Patrici | Mon 11/13/2017 2:33 PM |
| Message | Kathy Welch Robins |
| Susan Lipinski passed away Aug. 3, 2017 | Wed 8/23/2017 6:53 PM |
| Jim Hastings, Our Class President, Dies | Class Site Admin |
| November 8, 1947 - June 1, 2017 His las | Mon 6/5/2017 2:47 PM |
| Bill Suddeth Passes Peacefully | Class Site Admin |
| William Y. "Bill" Suddeth was born Sept. | Sat 3/4/2017 3:59 PM |
| Darlene Britt Whaley | Class Site Admin |
| 01-29-17: It was reported today that Dar | Sun 1/29/2017 4:24 PM |
| Aubrey McNutt: Passes 12-29-16 | Class Site Admin |
| Everybody's friend, Aubrey, passed on to | Fri 12/30/2016 4:14 PM |
| Carol (Parrish) Souders Dies | Class Site Admin |
| Our sweet, lovely, Carol Souders passed | Mon 11/21/2016 3:20 PM |
| Janis (Bovee) Autrey-Harris Passes | Class Site Admin |
| Nov 19, 2016: It was reported today tha | Sat 11/19/2016 7:46 PM |
| Donna (Trousdale) Roberts is now gone | Class Site Admin |
| Donna Sue passed away on the last Sunday | Wed 11/2/2016 5:40 PM |
| Henry Poe dies at 68 | Class Site Admin |
| Born Sept. 23, 1948, lifelong Shawnee re | Wed 11/2/2016 5:35 PM |
| Carolyn (Columbus) Benjamin Leaves Us | Class Site Admin |
| Carolyn (Columbus) Benjamin passed away | Wed 11/2/2016 5:26 PM |
| We Say Goodbye to Larry Woods | Thurston Munn |
| And we say goodbye to yet another member | Fri 4/22/2016 7:15 PM |
| We Lose Yet Another Class Member | Class Site Admin |
| Bobby Don Chapman passed away Sunday, Ap | Wed 4/20/2016 4:39 PM |
| Gift of Your Caldron to the Class of 1966 | Sharon Mitchell Robinson |
| Hello My husband and I have planned our | Wed 3/16/2016 10:44 PM |
Today's Featured Biography
I have been married to Terry for 31 yrs. I have three great sons,and a wonderful daughter-in-law. Three beautiful grandchildren(2granddaughter and one grandson) and I'm expecting a great-granddaughter in July. I'm a Hairstylist, and worked in the Shawnee area for 39 yrs.


Family News Summary
Enter your Family News Item choosing from our pre-defined categories:
Anniversary, Award, Birth, Death, Diagnosis, Engagement, Graduation, Lottery, Retirement, Vacation, Wedding, Other.
Death
April 1, 2014: Tim Norton lost his mother a couple
Posted by: Allen Flick

4/1/2014

Death
Shirley Daugherty Alspaugh's Dad died in January o
Posted by: Shirley Daugherty Alspaugh

12/1/2013

Mom of Class Mate Passes Away
LuWana (Blackstone) Lowe's mother passed away afte
Posted by: Allen Flick

4/2/2012

Class Member's Wife Passed Away
Carl Melin's wife, Nina, passed away in Hot Spring
Posted by: Allen Flick

2/6/2012

Bill Hall Loses Wife
Bill Hall's wife, Rosa L. "Rosie" Hall, 68, Shawne
Posted by: Allen Flick

4/25/2011

Female Veteran Dies of Cancer
Easter Rhodes, one of our female veteran class mem
Posted by: Allen Flick

4/20/2011

Michael Stone Loses His Mother
Lillian Collins, 85, Michael Stone's mother, died
Posted by: Allen Flick

4/20/2011
Calendar
There are no Calendar items on file
at this time.

Today's Featured Class Member Website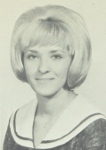 100% Crowdfunded Since 2003
Classreport.org provides free Class Websites for every graduating class of every high school with free access for all.
We are one of the premier social networking sites dating back to 2003. We are a small, family-owned business and yet freely host over a million class websites. Our Story
Classreport holds a special place in the hearts of our users: Bravos.
Class Support Status

Our Class Site is Fully Funded!
Additional contributions are welcome and will be used to provide support for the larger Classreport community.
CLICK HERE TO LEARN MORE
Class Directory

Where in the world are you? Stats
Recent Profile Updates
| | |
| --- | --- |
| | Apr 7 |
| | Mar 13 |
| | Feb 8 |
| | Feb 3 |
| | Dec 17 |
| | Nov 26 |
| | Nov 26 |
| | Nov 26 |
Class Poll
The Wolves' Alma Mater
---
Hail Shawnee High School,
My School so True

We're of the thousands loyal to you
We are legion fashioned by thee

Hail to the school we love,
Hail to thee, SHAWNEE!!!
Visit Other Classes
The Office
(Admin use only)
If you have any questions or comments regarding this website, please contact:

Class Administrator
Allen Flick

SHS Site Coordinator
Allen Flick
Class of 1966

Would you like a sneak peek at a
non-functioning view of The Office?

This class reunion website is a complementary addition to your existing alumni resources.
It is a product of Classreport, Inc. and may not be affiliated with Shawnee High School or its alumni association.

Does your High School Class have a full-featured Alumni Website? Start One Now!
(Or start one for your Mother, Father, Sister, Brother, Spouse, Son, Daughter, Friend . . .)



"Your site is amazing. Kudos to you and your staff. You have benefitted so many high school alumni in organizing their class reunions." 10/4/2017


"Thanks to classreport.org our class website played a huge part in the success of our Reunion. We greatly appreciate your wonderful support." 10/3/2017


"Thanks for all your hard work and ingenious spirit." 9/25/2017


"Thanks guys, you are Good!!" 9/23/2017


"I love your service and will continue to support you." 9/14/2017


"We have been using the website for more than 10 years now. It's still the best website out there for classmates to meet, collect their info and advertise their reunions. Thanks for inventing it all!" 9/11/2017


"Thank you for your assistance. It was very helpful. Looks good!" 9/5/2017


"I am so grateful I found your website. It is especially wonderful for our classmates. I will spread the word!!" 8/31/2017


"Our high school reunion was a great success and our site on ClassReport.Org was a HUGE help in that success! ClassReport.Org is by far the best platform on the Internet when it comes to high school reunions!" 8/30/2017


"Thanks for all of your help and the great web site you have. We have a great response for our upccoming reunion events in September." 8/7/2017



More bravos at: www.classreport.org/bravos




15th Anniversary!
There are no fees required for participation on this site.
Please support this site with your voluntary contributions.
We cannot provide this service without your support. Thank You!
Please read Our Story
ClassTraQ 11.003 Software Copyright © 2003 - 2017 Classreport, Inc. All Rights Reserved e1 amsc: 1