****WILDCATS GOING WILD****


This site is operated and funded by members of our class.
Class Administrator: Gordon Parkhill
Page Hits: 30,862


Event Announcement!
---
FOUNDING FIVE CLASSES PICNIC 2018
Friday, July 27, 2018 - 10:00 am
Kirby Billingsley Hydro Park Shelter, East Wenatchee

HERE WE GO AGAIN!

We're having another fun gathering of the 1958 through 1962 classes of old Eastmont High this summer. It's going to be a picnic at Kirby Billingsley Hydro Park in East Wenatchee (hopefully this time we won't be chased into the Junior High due to severe smoke and high temperatures like we were last year). It'll be primarily a "Bring Your Own Stuff To Eat and Drink" picnic with the Founding Five Classes providing bottled water and charcoal/lighter fluid in case anyone wants to BBQ (that is if there isn't another "Fires Prohibited" alert like there was a couple years ago) and Condiments.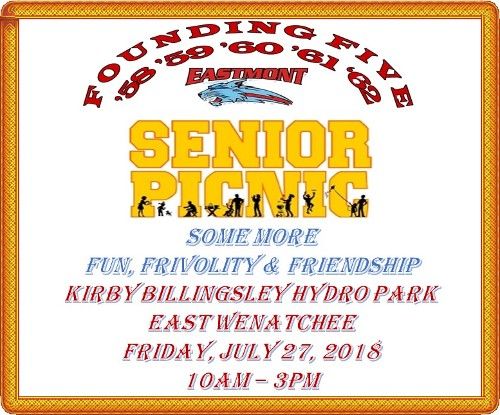 Event Contact: Gordy Parkhill
---
Event Announcement!
---
---
Class News

12/6/2017
Judi Rohlman Telford
I am sad to let you know that our classmate, Judi Rohlman Telford, passed away on November 18th after a long battle with cancer. Judi certainly will be missed very much by our class and all . . . Continued

6/28/2017
ARt Harmon
Mike Plunkett, Gary Rich let me know that Art was in the hospital in Wenatchee in serious condition. However, since then Del Vanderpan has talked with Art's brother, Tom, who said that Art i . . . Continued

4/18/2017
Gayle Brett Warren
I'm sorry to have to give you some sad news - Gayle's husband, Gary, passed away. Our thoughts and prayers are with Gayle and her family at this sad time. . . . Continued


Our Class Message Board
Your participation is requested!
We would like to hear from you. Post your messages here.

ADD NEW VIEW ALL

Indicates an included photo
Today's Featured Biography
Married Chet Hutchins March 11, 1961, moved to California, moved back to Wenatchee end of August 1970. We have 2 sons - Chet W. Hutchins III (wife Tracy, son Jacob) and Chad Eric Hutchins (wife Alicia). Both boys now live in Wenatchee and East Wenatchee. We opened Don Quixote's Imports in 1973, moving into the Wenatchee Valley Mall in 1976. Then we also opened Kitchen Addition in the same mall in 1987, and finally closed Don Quixote's in 1992. Moved Kitchen Addition downtown in 1997, and I retired in 2005.
Chet and I spent good quality time with our sons & family, and also with each other's families. We enjoyed traveling, camping, hiking, (he enjoyed fishing!!!). Yearly Maui trips regenerated us.


Family News Summary
Enter your Family News Item choosing from our pre-defined categories:
Anniversary, Award, Birth, Death, Diagnosis, Engagement, Graduation, Lottery, Retirement, Vacation, Wedding, Other.
Death
I am very sad again to announce the passing of ano
Posted by: Gordon Parkhill

12/6/2017

Death
I'M very sad to have to let you know Art Harmon pa
Posted by: Gordon Parkhill

7/13/2017

Diagnosis
Judi Rohlman Telford will be undergoing extensive
Posted by: Gordon Parkhill

11/16/2014

Death
I'm sorry to inform the Class of 60 that Bill "Pee
Posted by: Gordon Parkhill

4/28/2014

Death
I'm sorry to have to let you know that Jim Lyon pa
Posted by: Gordon Parkhill

1/30/2014

Other
Steve Rolfs' memorial service has been postponed u
Posted by: Gordon Parkhill

4/27/2013

Death
After a brave battle, Steve gently passed away, Th
Posted by: Gordon Parkhill

4/26/2013
Calendar
There are no Calendar items on file
at this time.

Today's Featured Class Member Website
Brian Talbott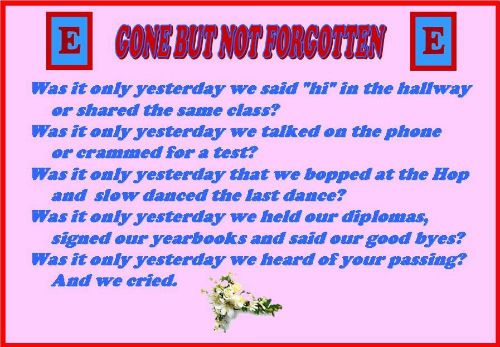 Remembering When…we sat and talked,
Dreaming of days to come.
Walking the halls, cafeteria food,
And laughing until we were numb.
The fall football games, the roar of the crowd,
The beat of the Eastmont Wildcat Band,
The autumn air still takes me back to that time,
To where we'd meet up with friends as planned.
Remembering when we cruised Wenatchee Ave,
The Triple X, sneaking into the VueDale Drive-in.
Scratchy formal dresses, big hair, corsages,
Crew cuts, white bucks, homecoming with friends.
Those tender times were of gentler days,
That now seem to be of a different world.
The march of time has brought with it changes,
As new generations of lives have unfurled.
All of those memories are but a whisper now,
That will forever echo in my mind.
Now and then I find myself searching
For the faces of those friends who left us behind.
Most friends remain - but some have gone
And left for a final place of rest.
Gone from our sight yet with the memories of those,
We surely have been blessed.
Remembering When…we had not a care in the world,
And how time just seemed to stand still.
I think of you now with fond thoughts and precious memories,
And I know that I always will.
[Modified from poem by Michelle Young, WCHS c/o 1976]

***BE SURE TO PAUSE OUR WEBSITE MUSIC BEFORE STARTING JUDD'S MUSIC BELOW OR YOU WILL HAVE A SURREAL EXPERIENCE!***
***CLICK ON THE PICTURE OF JUDD HAMILTON AS SHANE BELOW TO HEAR HIS 1962 RECORDING "ON A NIGHT LIKE THIS". BE SURE TO PAUSE OUR WEBSITE MUSIC BEFORE STARTING JUDD'S TUNE BELOW OR YOU WILL ALSO HAVE A WIERD AUDIO EXPERIENCE!***

CLICK HERE for EASTMONT CLASS OF 60 FACEBOOK PAGE

Classreport.org provides free Class Websites for every graduating class of every high school with free access for all.
We are one of the premier social networking sites dating back to 2003. We are a small, family-owned business and yet freely host over a million class websites. Our Story
Classreport holds a special place in the hearts of our users: Bravos.
Class Support Status

Our Class Site is Fully Funded!
Additional contributions are welcome and will be used to provide support for the larger Classreport community.
CLICK HERE TO LEARN MORE
Class Directory

Where in the world are you? Stats
Recent Profile Updates
| | |
| --- | --- |
| | Jan 21 |
| | Dec 12 |
| | Dec 11 |
| | Dec 6 |
| | Jul 15 |
| | Apr 5 |
| | Dec 21 |
| | Dec 13 |
Class Poll
There is no Active Poll
at this time.
Recent Reviews
Movie
McFarland

Rev by: Gordon Parkhill
Movie
The Monuments Men
George Clooney, Matt Damon, Kate Blanchett
Rev by: Gordon Parkhill
Movie
Saving Mr Banks
Tom Hanks & Emma Thompson
Rev by: Gordon Parkhill
Movie
The Artist

Rev by: Gordon Parkhill
Visit Other Classes
The Office
(Admin use only)
If you have any questions or comments regarding this website, please contact:

Class Administrator
Gordon Parkhill

Would you like a sneak peek at a
non-functioning view of The Office?

This class reunion website is a complementary addition to your existing alumni resources.
It is a product of Classreport, Inc. and may not be affiliated with Eastmont High School or its alumni association.

Does your High School Class have a full-featured Alumni Website? Start One Now!
(Or start one for your Mother, Father, Sister, Brother, Spouse, Son, Daughter, Friend . . .)



"Just discovered your product today while trying to locate classmates ahead of our 50th reunion in 2020. The fact that you did this in a noncommercial manner in a world where everything has a price tag deserves recognition and respect, in my view. Thank you and good luck in all your endeavors." 5/5/2018


"THANKYOU so much for handling this for us! We are so appreciative! It looks GREAT!" 5/2/2018


"Thank YOU for helping us get the word out! I've posted a link to the website on our FB group page and vigorously encouraged other classmates to contribute" 4/27/2018


"Your site is amazing. Kudos to you and your staff. You have benefitted so many high school alumni in organizing their class reunions." 10/4/2017


"Thanks to classreport.org our class website played a huge part in the success of our Reunion. We greatly appreciate your wonderful support." 10/3/2017


"Thanks for all your hard work and ingenious spirit." 9/25/2017


"Thanks guys, you are Good!!" 9/23/2017


"I love your service and will continue to support you." 9/14/2017


"We have been using the website for more than 10 years now. It's still the best website out there for classmates to meet, collect their info and advertise their reunions. Thanks for inventing it all!" 9/11/2017


"Thank you for your assistance. It was very helpful. Looks good!" 9/5/2017



More bravos at: www.classreport.org/bravos




15th Anniversary!
There are no fees required for participation on this site.
Please support this site with your voluntary contributions.
We cannot provide this service without your support. Thank You!
Please read Our Story
ClassTraQ 11.003 Software Copyright © 2003 - 2017 Classreport, Inc. All Rights Reserved e1 amsc: 1