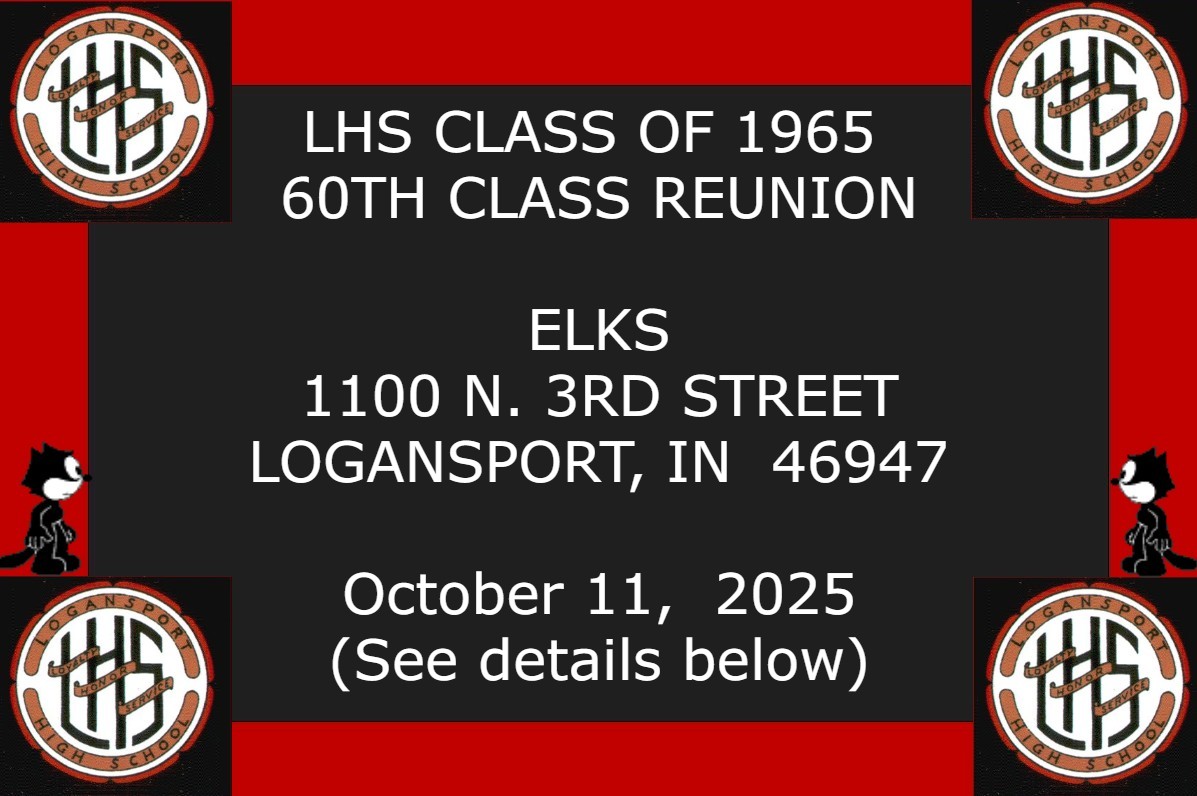 This site is operated and funded by members of our class.
Class Administrator: Michael Piercy
Page Hits: 173,964


Event Announcement!
---
LHS Class of 1965 Golf Outing
Saturday, August 10, 2019 - 12:00 pm
Dykeman Golf Course
---
LHS Class of 1965 Mini Reunion
Saturday, August 10, 2019 - 5:00 pm
Amelio's, 431 South 5th Street, Logansport, Indiana
The downtown stormwater project on East Melbourne has prompted complications for us attending our mini reunions. Amelio's customers who normally park on Melbourne or 5th Streets were temporarily asked to park west of the restaurant in the city parking lot just east of the Iron Horse Museum. Parking on Melbourne has been allowed "off and on" for the duration. Be aware that you may be allowed to part there.
However, parking will be limited on 5th Street. Sorry for the inconvenience. Construction is scheduled for several months.





---
---
Class News

6/16/2019
DOWNTOWN BUSINESS OWNER RECOGNIZED
She opened a shop 44 years ago in Logansport and she's been a fixture in the 500 block of East Broadway ever since. Nikki Reid, owner of The Nest, says she saw the potential for a long-te . . . Continued

4/25/2019
FROHREICH CHOSEN AS 'CITIZEN OF THE WEEK'
A Logansport native who recently published a book is recognized this week as the community's outstanding citizen. Keith Frohreich recently released "Blackberries are Red when Green" based . . . Continued

4/9/2019
BLACKBERRIES ARE RED WHEN GREEN by Keith Frohreich
Classmate, Keith Frohreich's first novel is a story about coming-of-age, the slow arc of racial change and a place time has forgotten. Keith also authored "Guy's Guide to Domestic Enginee . . . Continued


The graduating Class of 1965 Logansport High School gathered at Angie's Catering on October 10, 2015 for their 50th class reunion. Those in attendance were from left to right Row 1 Larry M. Zeck, Jane (McCloskey) Althoff, J.D. Jeannie (Daniels) Ray, Michelle (Grusenmeyer) Becker, Kathy (Wolford) Graham, Kathy Yoder, FELIX THE CAT, Selinda "Cindy" (Haworth) Dalton, Kris (Beale) Buchmiller, Nicole (Pritz) Rockey, Charlotte (Purcell) Minks, Nancy (Heiland) Surrat, Sharon (Thompson) Gill, Connie (Drake) Kiesling. Row 2 Bill Dielman, Jerald Hettinger, Marilyn (Quirk) Frederick, Sharon (Adair) Parmeter, Nikki (Conn) Reid, Cherry (Applegate) Eberling, Sondra (Hammon) Ulerick, Janet Snyder, Christine Little, Linda (Hosler) Randak, Sarah (Rude) Spencer, Rita (Corcoran) Kochel, Marilyn Albright, Linda (Bowles) Hanna, Steve Gill, Steve Pearson. Row 3 Dick Haugh, Ron Allen, John E. Morris, Barbara (Nelson) Goyer, Valerie (Cotner) Montgomery, Laura (Johnson) Sechen, Pixie (Wolf) Liebermann, Marcia (Huntsinger) McIntyre, Sherry (Harmon) Adair, Jerry J. Spencer, Kathy (Ervin) Michael, Jennifer (Johnson) Ryan, Mary ( Rominger) Widner, Mary Margaret (Gerstner) Murphy. Row 4 Glen Dillman, Jane (Knoy) Grant, Sally (Neumann) Stanley, Therese (Fickle) Cunningham, Pat ( Farrer) Wyss, Diane (Adams) Reed, Joe Fiscel, Honey (James) Jaramillo, Dorothea "Dottie" (Spencer) Caldwell-Roush, Jerry Ann (Smiley) Chomko, Ann (Caughill) Morrical, John D Morrical, Camy (Berkshire) Klink, Marilyn (Daily) McQueary, Row 5 Jane (Morrow) Selvio, Leonne Brown, Susie (Stanley) Keller, Karen (McElheny) Mullen, Stan Minks, Connie (Studebaker) Hallam, Lyn (Johnson) Lang, Doris (Pinney) Sivermell, and Diane (Binder) Crim Row 6 John Jargstorf, Jay Thompson, Bob Bannon, Penny (Kitchel) Bannon, Mike A Smith, Mark Hillis, Tim Oldham, Bob Hilbert, Greg Edkins, Gerry Riley, Dean Scheerer, Jerry McClain, Dave Shoemaker. Row 7 Jay T. Hirschauer, "Bob" Tribbett, Gary Terrel, Paul Elmore, Richard Whiteman, Julie (Michael) Muehlhausen, Marilyn (Briggs) White, John Rynearson Row 8 Paul Grant, Beth (Porter) Brumett, Terry Brumett, Dave Hults, Mike Brewer, Keith Frohreich, Larry Ervin, Larry Delaney, Mike Piercy, Ed Keplinger, Mike McClelland, Tom Lane, Tom Pasquale, Mel Crichton. Those attending but not in the picture are Steve Corcoran, Dan Harmon, and Barb Sundy Winter.
Today's Featured Biography
In love with wife, grandkids, and job. Now living the simple phrase my father used often;
"Too soon old, too late smart"



Classreport.org provides free Class Websites for every graduating class of every high school with free access for all.
We are one of the premier social networking sites dating back to 2003. We are a small, family-owned business and yet freely host over a million class websites. Our Story
Classreport holds a special place in the hearts of our users: Bravos.
Class Support Status

Our Class Site is Fully Funded!
Additional contributions are welcome and will be used to provide support for the larger Classreport community.
CLICK HERE TO LEARN MORE
Class Directory

Where in the world are you? Stats
Recent Profile Updates
| | |
| --- | --- |
| | Jun 9 |
| | Jun 2 |
| | May 30 |
| | Apr 18 |
| | Apr 11 |
| | Mar 22 |
| | Mar 21 |
| | Jan 28 |
Class Poll
There is no Active Poll
at this time.
Visit Other Classes
The Office
(Admin use only)
If you have any questions or comments regarding this website, please contact:

Class Administrator
Michael Piercy

Would you like a sneak peek at a
non-functioning view of The Office?

This class reunion website is a complementary addition to your existing alumni resources.
It is a product of Classreport, Inc. and may not be affiliated with Logansport High School or its alumni association.

Does your High School Class have a full-featured Alumni Website? Start One Now!
(Or start one for your Mother, Father, Sister, Brother, Spouse, Son, Daughter, Friend . . .)



"Just discovered your product today while trying to locate classmates ahead of our 50th reunion in 2020. The fact that you did this in a noncommercial manner in a world where everything has a price tag deserves recognition and respect, in my view. Thank you and good luck in all your endeavors." 5/5/2018


"THANKYOU so much for handling this for us! We are so appreciative! It looks GREAT!" 5/2/2018


"Thank YOU for helping us get the word out! I've posted a link to the website on our FB group page and vigorously encouraged other classmates to contribute" 4/27/2018


"Your site is amazing. Kudos to you and your staff. You have benefitted so many high school alumni in organizing their class reunions." 10/4/2017


"Thanks to classreport.org our class website played a huge part in the success of our Reunion. We greatly appreciate your wonderful support." 10/3/2017


"Thanks for all your hard work and ingenious spirit." 9/25/2017


"Thanks guys, you are Good!!" 9/23/2017


"I love your service and will continue to support you." 9/14/2017


"We have been using the website for more than 10 years now. It's still the best website out there for classmates to meet, collect their info and advertise their reunions. Thanks for inventing it all!" 9/11/2017


"Thank you for your assistance. It was very helpful. Looks good!" 9/5/2017



More bravos at: www.classreport.org/bravos




16th Anniversary!
There are no fees required for participation on this site.
Please support this site with your voluntary contributions.
We cannot provide this service without your support. Thank You!
Please read Our Story
ClassTraQ 11.003 Software Copyright � 2003 - 2017 Classreport, Inc. All Rights Reserved e1 amsc: 1