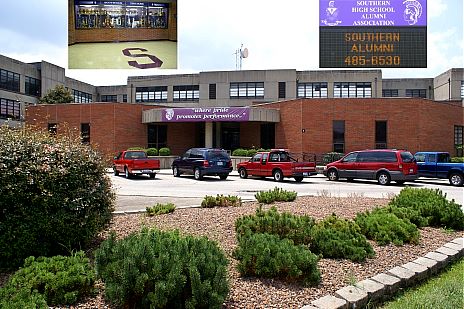 This photo can be changed by your Class Administrator.


This site is operated and funded by members of our class.
Class Administrator: Barbara Ann Forrester Fultz
Page Hits: 60,610


Class News

10/2/2020
Class News
Missing Data . . . Continued

5/19/2020
We have lost Ruth!
I was surprised and saddened to hear just now about the loss of longtime friend Ruth Hornback Orthober, whom I found to be an always chatty and vibrant soul. We were members of the South . . . Continued


Below, something to keep your tummy warm:
a big pot of taco soup!
Wondering what Southern High is like today?
Check out this "Southern Rocks" video from YouTube.
---
---
Not on our monthly birthday list?
Email us with your birthday info
-- and please send us a recent photo, too.
We'll put you on our Birthday Watch
in right column of this page.
It's not like your age is a secret
from your Southern High classmates!

Well, being 77-78 does have advantages ...



In a hostage situation we are likely to be released first.
No one expects us to run into a burning building.
Friends call at 9 p.m. and ask, "Did I wake you?"
People no longer view us as hypochondriacs.
There's nothing left to learn the hard way.
We can eat dinner at 4 p.m.
We enjoy hearing about other people's operations.
We have a party and the neighbors don't even realize it.
We sing along with the elevator music.
Our investment in health insurance is finally paying off.
Our joints are more accurate than the weather service.
We won't remember where we read this.
---
We're not older, just more colorful!
Among the two dozen attending our June 5 chili supper at Donnie Bradley's home were (l-r) Sandy, Joan, Brenda, Ruth, Kathy and Betty.
---
Click here to see our Mike Linnig's outing.

---
An impromptu aggregation of Trojanettes joined entertainer "Rockin' Ricky" Powell in warbling some Patsy Cline and Connie Francis standards, among other golden oldies. None of them (tsk, tsk) knew the words nor the tune to our SHS pep song much less the Alma Mater! (Left to right) Barbara Ann, Joan, Betty, Ricky, JoAnn, Pat, Ruth, Kathy and Lana.
Looking elegant amid the glitter, Joan (Doyle) McCurry and her husband, Terry, footed the bill for the evening's professional entertainer, singing DJ and funnyman "Rockin' Ricky" Powell.
Yes, you can still order our 170-page, spiral bound printed directory of the SHS Class of 1960 by contacting Barbara Ann Forrester Fultz at (502) 417-9854. Plus, she also has the newly printed 200-plus page guide to the Class of 1961, as well. You may well want to have both books! She even has DVD slide shows, too. Get your own copy of the Saturday evening program simply by clicking here.
The lake view from our 70th birthday party.
Our Southern High School Class of 1960's collective 70th Birthday Party Bash at South Park Country Club on Friday, August 17, 2012, began with a buffet line. Among the entrée selections, the fish was exceptional.  

Our fellow Southerners may wish to visit our related Facebook pages, in particular, "Southern High Class of 1960 Reunion," but also "Southern Grads," "Southern High Class 1960," and "Southern High School 1962ers" among others.
Gary and Gwen Robinson drove in from Lawrenceburg for our collective 70th birthday party. "It was a nice, easy-going evening," reflects Gary. "I wish it could have lasted longer. I guess we talked more with those at our table — David and Ceely, Rich, Joan, Buddy and Sue. I particularly enjoyed getting to meet for the first time my ole buddy Harold Risner's wife, Brenda." Gary and Gwen are making plans to celebrate their 40th wedding anniversary at the end of October. "And my mom will be celebrating her 95th birthday!"
---
Our Class Message Board
Your participation is requested!
We would like to hear from you. Post your messages here.

ADD NEW VIEW ALL

Indicates an included photo
Today's Featured Biography
Short summary of my exciting trip on the time train:

After graduation; off to Rose Polytechnic Institute in Terre Haute, IN. Farm boys kicked my undisciplined academic butt. Transferred to Speed after second year, and actually applied myself just enough to graduate with a degree in Electrical Engineering.

Then off to Atlanta to work at Western Union where I worked on government and NASA communications contracts in the nine southern states in our region. The Louisville draft board had given out too many deferments to favorite sons, and I was drafted even though I had a job that carried deferments in all the other regions. Immediately went down and took tests that got me admitted to Officer Training School in the US Air Force. Left for boot camp literally the next day.

I was assigned to a job on a team investigating spurious radiation from electronic devices in the USAF Security Service. Transferred to work as an automatic test equipment engineer at Kelly AFB (long funny story here). The work was interesting and I was shortly doing acceptance tests on equipment valued at over $8 million a copy. I also had the opportunity to travel around the world on several training missions.

After my service, it was back to Western Union. Many changes had occurred
since I left, and the work I was given was not very rewarding. I eventually quit and went back to graduate school on a fellowship and the GI Bill. I finally applied myself academically, and graduated with honors with a Masters of Business Information Systems. I was also selected into Upsilon Pi Epsilon (computer science honorary) and Beta Gamma Sigma (business honorary). While here I meet and eventually married my wonderful wife Margaret. We were married in England in a lovely suburb of London, and the trips back turned me into an Anglophile).

After graduation it was off to North Carolina (Greensboro and Wilmington) as a salesman for IBM. After four years I realized I just wasn't an IBM'er (my daughter Meredith was born here which makes it a good experience overall), and ended up in Chicago with Sperry Univac. This was the beginning of a wacky period where I was involved as living proof of Schumpeter's theory of economic creative destruction, as I ended up closing up a pretty big number of companies that I worked for. Frustrating, but very educational (also a royal pain in the butt).

My wife got a job as Director of Purchasing for Corporate Headquarters of Stouffer Hotels in Cleveland, OH. I tried to help develop a Sun Micro Systems dealership there. That venture failed and Stouffers Hotels was eventually sold to a huge outfit in Hong Kong. My wife and I then started our own FF&E (Furniture, Fixtures, & Equipment … everything that fills up a hotel) Purchasing Company called New Serve Inc. She knew the business and I managed the operations which included the computer systems required. After a slow start the business took off, and we did very well for ourselves. We were successful enough to have decided to retire early five years ago.

My wife is an avid orchid grower, and is involved with the Cleveland Orchid Society (the oldest affiliate of the National society). She has held various positions, including the President for a number of years. She grows her orchids in a special room in the basement under a high intensity lamp (our FBI agent neighbor says that's just a cover for us growing pot).

I am an officer in the Cleveland Chapter of The AAII (American Association of Individual Investors). This is an educational group that helps educate people in how to invest. I am also a board member of the Men's Garden Club of Cleveland. This is a social and service organization that raises money for scholarships to horticultural students, and builds healing gardens for various charitable organizations like battered women's shelter, and a drug abuse rehabilitation center as a few examples.

We also try to keep our gardens up (getting more difficult now), and enjoy our leisurely lifestyle. There is always something to do to keep us busy and occupied.
Life has been basically kind to us so far.




Here are a few photos from the 70th birthday party. These were made by Barbara Ann (Forrester) Fultz. Hopefully, we have shots of everyone attending.
Paparazzo Barbara Ann caught these two dancing before the music had begun, and she confided to me that they're "an item." I can keep a secret, Barbara. That's our classmates Mary (Brown) Tewmey and Donald Baird.
David and Ceely Shepherd made a family affair out of coming to Louisville for our Birthday Bash. "We also are visiting my son and two grandchildren, who live in Goshen, and my sister, who lives in Scottsburg, Indiana," David tells us. Married for 42 years, the Shepherds live in Florida. "After I retired from the railroad, a few hard snows is all it took," notes David. Among classmates he enjoyed seeing, he mentions Mike Grider: "I bought a fishing boat from Mike way back when. And Gary Robinson: same ole Gary, same ole laugh. We played in the band together. I asked Gary, who is quite a gardener, what kind of tomatoes he likes to grow, and he said 'Mr. Stripey,' the same variety I like down in Florida, red with yellow and orange stripes; they grow up to two pounds!

Ask David about the time he riled Southern teacher Ruth Miss Willis. He's still explaining why "it wasn't my fault!"
Mike and Sandy (Herdt) Potter, both Southern grads, have been key movers in organizing our various reunion events. "We had a great time," reports Sandy. "The food was good, and I talked to people I haven't seen in a long time!" The Potters celebrated their golden wedding anniversary on Feb. 23, 2012.
Morris and Barbara Sue (Sanders) Longacre arrive in a splash of color. And why shouldn't the late Morris be clad in purple; he was Southern grad, too, (Class of 1957) and he was a standout athlete. Four years is quite an age spread in high school, though. "Oh, we didn't date in high school," explains Barbara Sue, who swished her poodle skirt through the chemistry lab in our junior year. "After Southern, I attended Western, and I posted a note on the bulletin board, as college students used to do, hoping to hitch a ride home. Well, the rest is history!"
We thought no one could come between Ernest "Sonny" and Betty (Beasley) Miller — and yet! Sue, is that you gal? These early party arrivals were ready for some fun.
Patricia Louise looks quite elegant in purple. Pat (Cook) Riggs is retired from the Bullitt County Board of Education. Her favorite pastime is "to work on genealogy. I have over 6,000 people in my report and go back to 1613 on my family and to 1530 on Leon's family." She and Leon will celebrate their 52nd wedding anniversary in January 2013!
Janeffa (Bridges) Hall married Elmer in 1964. They have three children, seven grandchildren and one great grandchild. "After Elmer Ray retired, we bought a condo in Florida and spend six months there and six months in Shepherdsville."
David and Carolyn "Connie" (Barmore) Gay live on Peaceful Way in Shepherdsville. Connie wrote in the senior annual that her favorite pastime was "talking on the telephone." Some things never change. (Now, if we could get her to write a personal bio.)
As people began arriving at the South Park Country Club for our SHS Class of 1960 collective 70th birthday year party, Barbara Ann got this side by side shot of Carolyn (Anderson) Polston and her daughter, Angela. Same size, same hair, same complexion and same eyes! Our classmate was ready to celebrate, though her own birthday is in April.
Joe and Jo Ellen (Thurman) Crouch have three children. Jo Ellen celebrated a big (Shhh) birthday on July 31, but she was happy to extend the party to August 17 in order to include her classmates. Now, if we could get her to complete her profile.
(Regretfully, we must add that Jo Ellen passed away on May 27, 2014, Details are in our Family News section.)
"I think now is the best time of my life, and I'm grateful to God for helping me realize that every day is precious," says Lee Markwell, photographed with his wife, Marte. Any children? How about David, Susan, Paul, Cynthia Lee, Michael, Jeanne, Sheri and Cindy Lynn! Grandkids, you betcha!
Southern High reunions are a family tradition in the Riggs clan, lately. While Melves and Martha Riggs are shown here at our 1960 get-together, Melves' sister, Marcella Brooks, had her Class of 1961 reunion event last year, and his younger brother, Joe, came in for his SHS Class of 1962 50th reunion on August 11, this year!
Beverly (Sanders) Humphress and her late mom, Jenny Cruse, who is also classmate Pat (Hogan) Morgan's aunt.
"David never meets a stranger," brags April (Burks) Bond as her husband blends right in with April's classmates at our 70th Birthday Bash. "David likes to dance, too," continues April, "and he goes with Bonnie and me when we line dance with the "Nuts and Honeys" group.
"I don't need to catch up with my pal April at this party," explains Bonnie (Carney) McMurray. "We see each other a couple of times a week." Bonnie lives in Taylorsville, but works in the personnel office at the Salvation Army in Louisville. "On my lunch hour, I like to walk over to Fourth Street Live, just to see what's going on, and I love to read when I can."
We jotted down David Shepherd's phone number since we barely got to talk to him and his pretty wife, Ceely, but he did have time to tell us about coming across a passel of wild turkeys a while back. The Shepherds live in Crestview, Florida.
Sounding like someone released from imprisonment, Kathy (Pybus) Ryan told us, "June 1 was my first day out — it was my birthday, too! — and I am still learning to enjoy retirement." We're pleased you're 'out,' Kathy, and we hope you have a long and happy tenure in your newfound freedom. At Kathy's behest, her friend, Cindy Smith, created the beautiful cake for our recent birthday party bash!
Sandy (Priddy) Page brought her son, Sean Page, to our 70th Birthday Bash. We are more accustomed to seeing Sandy photographed on a horse. She is actively involved in distance and endurance riding with her Arabian horses. "I have 36 acres in Southern Indiana and would love to retire, but that's probably not possible for a long time. My son and his wife are helping me build a bermed house with an interior that uses logs made by the Amish."
OK, we photographers sometimes hand our cameras off and "watch the birdie," too. I gave my Nikon to Barbara Ann Fultz, who deftly grabbed this shot of me without even rising from her chair. – Jim Reed
---
Click above to visit our site on Facebook!
---
---
Impromptu on the SHS auditorium stage Friday afternoon starring Pat O'Bryan (left)
and the late Sandy (Stone) Barratt.
Click here to see lots more photos from
our 50th reunion tour of Southern!
---
Hover your mouse over the lower right of the teachers slide show window below and a small yellow block will appear. Click on it to display slide show full screen.
Southern High Faculty
---
Southern Saturday Nights
On weekends at Southern, the cafeteria often underwent a transformation. In addition to weekly sock hops, on occasion we added an extra touch for formal dances by hanging crepe paper and hiring a real, live band! Formals were a special opportunity for the girls to strut their stuff in high heels and their best party frocks complemented by color-coordinated corsages, while the guys grudgingly donned sports coats, ties and boutonnieres. The spell was cast and magic was in the air as we and danced the night away.

Family News Summary
Enter your Family News Item choosing from our pre-defined categories:
Anniversary, Award, Birth, Death, Diagnosis, Engagement, Graduation, Lottery, Retirement, Vacation, Wedding, Other.
Death
Beverly (Sanders) Humphress has lost her husband
Posted by: James (Jim) Reed

4/21/2017

Death
Patsy Watkins' brother passes away. Our friend an
Posted by: James (Jim) Reed

2/18/2017

Death
Norman Mercer Passes Away. Members of the Souther
Posted by: James (Jim) Reed

12/14/2016

Death
Barbara Stith Yadon has passed away. Alumni of So
Posted by: James (Jim) Reed

7/15/2016

Death
Members of the Southern High School Class of 1960
Posted by: James (Jim) Reed

6/23/2016

Death
Sadly, we must report that Ronald Hart, a member o
Posted by: James (Jim) Reed

10/3/2015

Death
Bobby Brown Passes Away .........................
Posted by: James (Jim) Reed

2/1/2015
Calendar
There are no Calendar items on file
at this time.

Today's Featured Class Member Website
We need detective work.
We have yet to find a number of folks.
Maybe you can supply a lead.
Let's find our missing SHS 1960 classmates
Let's find our missing partners!
Let's join forces to locate our "Missing" classmates.
---
The SHS Class of 1961 also asks our help.
Their reunion was August 20, 2011.
They have yet to find a number of folks.
Maybe some of us can supply a lead.
Let's find our "missing" SHS 1960 and 1961 classmates
Let's join forces to locate all of our SHS classmates.
---
"This was my senior prom picture taken by my mother at my parents' home on South Park Road while I was waiting for my date, Jim," writes Joan (Doyle) McCurry. "Jim had a Corvette! Trouble was, in my prom dress, I couldn't fit in it. So, we doubled dated that night with Delores Chancey and Bobby Knipp and had a great time. After the prom we went back to Delores' house and danced until two o'clock in the morning! I know there were more pictures taken that night, but they must have gone the way of the wind! The great thing about old pictures is that there are no wrinkles." 
This photo "was taken graduation day in my parents' front yard on Shepherdsville Road," writes Carole (Miesner) Shramovich, who went with her husband, George,  to his own 50th high school class reunion last September.
As was often the case with Southern girls, Mary (Renfro) Coy reports , "I picked the pattern, and my mother made my graduation dress." A stunning redhead in a beautiful dress! "On graduation day, after the morning practice, Diane Clark, Joyce Phelps and I went downtown to a movie before the evening commencement exercise."
Our classmate Janet (Farak) Martin tells us, "As of June 27, I have hiked all the maintained trails in the Great Smoky Mountains National Park. My strangest experience in the Smokies happened on the very last night . . . (Check our Message Board for the story!). Also an alpine skier, When not in "travel mode," Janet was a trial lawyer for 25 years.
One of our driving forces in the SHS reunion planning effort is "Rapid Ruthie" (Hornback) Orthober who recalls that years ago, "My husband was racing cars at the local tracks and as an amateur on the local NASCAR circuit. I decided if he could, I could, and for a couple of years I drove in the Powder Puff series!" Ruth tells us "Reconnecting with everyone has brought back lots of memories. I really look forward to this reunion!"

Barbara Ann (Forrester) Fultz has been behind a camera since our days at Southern. She was told by a teacher that a girl couldn't be annual staff photographer, because "girls wear dresses and, well, they can't be climbing ladders and stuff like that to shoot photos." Incensed at such discrimination, she's been shooting photos ever since. Barbara Ann launched our SHS web site and spends hours each day keeping it updated and refreshed. It's just like her to peek from behind a tree since she so often works behind the scenes, but a girlfriend caught this shot of Barbara Ann a few weeks ago for a moment making a pretty picture -- in front of the camera lens.
---
Where's the flattop go, Bob? Robert Hitt, as he's known these days, lives in Maine now, but "I was a working actor for 20 years in New York City and around the country. I did plays, commercials and TV sitcoms. My film work was a great experience, and I frequently worked in big films, but my parts were often small. A couple of my favorite films are: All That Jazz, and Missing (with Jack Lemmon)." Read more about this "Southern Man" in our online profiles, and if you have not done, so please update your own personal bio.
The Trojan Man: Fit, trim and muscled, always ready for action. Marlboros in shirt pocket, this one-time U.S. Army special agent lived in Cincinnati for 43 years, but is now back in Louisville. He splits his time between tennis and ballroom dancing. Rich Stevenson, shown above at age 33, is doing the final editing on "The Second American Revolution," to be published shortly. He still has an infectious laugh that soars above the crowd.

Harold and Brenda Risner live in the Prospect area and are the doting grandparents of their daughter's three girls. We saw Harold table-hopping all evening. Harold's dad, Ben Risner, taught math at Southern, while his mother, Mildred, taught at Okolona Elementary. Harold donated eight "sharp" door prize gifts for our 70th birthday party, all of which would make Crocodile Dundee proud.
Linda (Rohn) Deutsch, John Moore and Ruth (Hornback) Orthober pose for a color picture -- in black and white!
Table after table of our 1950s vintage high school memorabilia included everything from wood shop creations to hand made "cootie catchers."
Vying for hands-on claim to the balloons as we head for the exit after an exciting evening are Lovie Ann (Higdon) Baker, Wendell Cash and Jo Ann (Stratton) Payton, who is clutching her copy of the updated yearbook.
Been in Louisville lately? Above is Waterfront Park.
Click photo to enlarge.
Look: We have an alternative short link to our
Southern High School Class of 1960 web site:
---
SHS 1960 "Seniors" seen
at Mike Linnig's.
Can you identify them?
Answers here: Click
SHS 1960 "Seniors" seen
at Mike Linnig's.
Can you identify them?
Answers here: Click
Classreport.org provides free Class Websites for every graduating class of every high school with free access for all.
We are one of the premier social networking sites dating back to 2003. We are a small, family-owned business and yet freely host over a million class websites. Our Story
Classreport holds a special place in the hearts of our users: Bravos.
Class Support Status

Our Class Site is Fully Funded!
Additional contributions are welcome and will be used to provide support for the larger Classreport community.
CLICK HERE TO LEARN MORE
Class Directory

Where in the world are you? Stats
Recent Profile Updates
| | |
| --- | --- |
| | Oct 2 |
| | Aug 20 |
| | May 19 |
| | Jan 5 |
| | May 6 |
| | Mar 9 |
| | Aug 17 |
| | Jun 3 |
U.S. Armed Forces
Active and Veterans

Please update your profile to be
included in this section.

0 from Our Class

10 from Our School

Class Poll
SHS 1960 "Seniors" seen
at Mike Linnig's.
Can you identify them?
Answers here: Click
Visit Other Classes
The Office
(Admin use only)
If you have any questions or comments regarding this website, please contact:

Class Administrator
Barbara Ann Forrester Fultz

Would you like a sneak peek at a
non-functioning view of The Office?

This class reunion website is a complementary addition to your existing alumni resources.
It is a product of Classreport, Inc. and may not be affiliated with Southern High School or its alumni association.

Does your High School Class have a full-featured Alumni Website? Start One Now!
(Or start one for your Mother, Father, Sister, Brother, Spouse, Son, Daughter, Friend . . .)



"Just discovered your product today while trying to locate classmates ahead of our 50th reunion in 2020. The fact that you did this in a noncommercial manner in a world where everything has a price tag deserves recognition and respect, in my view. Thank you and good luck in all your endeavors." 5/5/2018


"THANKYOU so much for handling this for us! We are so appreciative! It looks GREAT!" 5/2/2018


"Thank YOU for helping us get the word out! I've posted a link to the website on our FB group page and vigorously encouraged other classmates to contribute" 4/27/2018


"Your site is amazing. Kudos to you and your staff. You have benefitted so many high school alumni in organizing their class reunions." 10/4/2017


"Thanks to classreport.org our class website played a huge part in the success of our Reunion. We greatly appreciate your wonderful support." 10/3/2017


"Thanks for all your hard work and ingenious spirit." 9/25/2017


"Thanks guys, you are Good!!" 9/23/2017


"I love your service and will continue to support you." 9/14/2017


"We have been using the website for more than 10 years now. It's still the best website out there for classmates to meet, collect their info and advertise their reunions. Thanks for inventing it all!" 9/11/2017


"Thank you for your assistance. It was very helpful. Looks good!" 9/5/2017



More bravos at: www.classreport.org/bravos




18th Anniversary!
There are no fees required for participation on this site.
Please support this site with your voluntary contributions.
We cannot provide this service without your support. Thank You!
Please read Our Story
ClassTraQ 11.003 Software Copyright � 2003 - 2017 Classreport, Inc. All Rights Reserved e1 amsc: 1