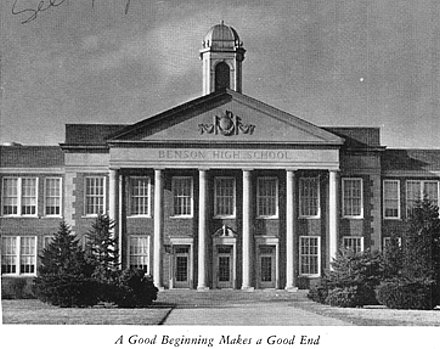 This photo can be changed by your Class Administrator.


This site is operated and funded by members of our class.
Class Administrator: Diane Caldwell Wolcott
Page Hits: 15,292


---
Event Announcement!
---
---
Photos from the 60th Reunion


https://drive.google.com/open?id=1oUc9gXFFRdd_tZPGgpZ9HaJF3k89T9IL

https://drive.google.com/drive/folders/1-l7HsmqHJl8gXTCiBpQw_M1ZYM8DyrQ8?usp=shari

ENJOY

Wendy Baker and Pat Anderson Wagner
---
Class News

9/3/2019
50th BHS Class Reunion - Some Thoughts On Getting Older - Carole Scarpello
"I shall be telling this story ages and ages hence; Two roads diverged in a wood, and I I took the road less traveled by, And that has made all the difference. " Some thoughts on getting o . . . Continued

9/1/2018
Hall of Fame Class of 1958 Benson High
Dana (Woody) Bradford III Djel Ann Gallup Brown Paul Brown Karen Kaufman Crawford Neal Hansen Dr David Kentsmith MD Barbara Kuhn Janice Dunkle Stoney Nancy Singles Bradshaw-Swaney Ed Young . . . Continued

8/30/2018
List of those that attended our 60th Reunion
Brad Baker, Bonnie R Barbe, John R (Jack) Batchelor, Janet Wallin Berls, Carma Bernhardt Bowerman, Sharon Brader Larson, Dana (Woody) Bradford, Denny Brown, Paul Brown, Djel Ann Gallup Brown . . . Continued


>>>>>>>>>>>>>>>>>>>>>>>>>>>>>>>>>>>>>>>>>>>>>>>>>>>>>>>>>>>>>>>>>>>> Diane Marie Wolcott (Caldwell) Editor and Developer of this SITE!! - R.I.P Diane. Diane Wolcott, age 80, died peacefully at her home in Loveland, CO on January 22, 2021. She was born July 7, 1940 in Des Moines, IA to the late Robert and Jeannette Caldwell. Diane met Dick Wolcott in high school originally but they did not date until, he claims, that he was hard pressed for a date for a fraternity function. Be that as it may they continued dating and were married July 23, 1959. About a year later they began a child birthing marathon having children Cindy, Timothy (now deceased), and Robert all within 30 months. Now that's a lot of diapers around the house. Diane worked with Dick at Merchants Credit Adjusters as bookkeeper. Diane and Dick became interested in showing and breeding Shetland Sheepdogs about 1960. They breed several show champions and went on to handle dogs for other breeders. Diane showed a Sheltie with enough wins in 1975 to be named top winning Sheltie in in the country. She was a very hard worker for the American Shetland Sheepdog Club of which she was a member for 50 years. She had attended the National Sheltie show spanning most of the 50 years that she was a member. She had other interests as well: Oil Painting, Bronze Sculptor, misc. artsy things, golf (until her back went haywire), photography, travel, etc., etc. When Dick sold his company in 2006 they move to Estes Park, CO to be close to their beloved mountains. Diane and Dick became addicted to travelling in their motor home. Their last trip lasted 1 ½ years beginning in December of 2012 and arriving back home in 2014 in which they were in 36 states, a lot of Canada, spent a month in Newfoundland (with friends that they met on a motorhome caravan a few years earlier going to Alaska), and finally stopping along the way to visit old friends down the East coast and across to San Antonio, TX where they spent about a month before going back home to Colorado. They had listed their home in Colorado before embarking on this journey and it sold before they returned. When arriving back in Colorado they began the search along the Front Range since the altitude in Estes Park had begun to bother her. They landed in Loveland which is only about 30 minutes to Estes Park with a view of the mountains where they resided until her death. Diane was predeceased by her parents and Sister Nancy Huffman. She has one brother, Daniel Caldwell, of Canyon City, TX. Diane passed away January 22, 2021 after being seriously ill since November 3rd. Shelties became a major part of her life for the last 60 years. She and Dick bred many Champions of their own plus handled many others with 3 Best in Shows and handled the top winning Sheltie in the country in 1975. She was instrumental in the beginning of Midlands SSC in Omaha, member of Nebraska Kennel Club, ASSA, & CSSC. Outside of dogs her passions were in the arts (oil painting, bronze sculpture, crafts, etc.), travelling in their motorhome, and their family and friends. Diane Wolcott (O' the Glenn Shelties) Longtime ASSA member Diane Wolcott passed away February 22, 2021 at age 80. She joined ASSA in 1976 and contributed to the organization in many ways. She was Director at Large for eight years, chaired or led a symposium program four times, and regularly served on several other committees, including Trophy Solicitation, Judge's Hospitality and Nominating. She also participated in ring stewarding and ringside mentoring, and judged sweepstakes at the National several times. Last, but not least, she assisted her husband Dick as National Chairman from 1980-1986, as the National grew and ASSA transitioned to an independent show committee. For Diane's lifetime of ASSA service she was awarded the ASSA Outstanding Service Award in 2014, which was truly one of her proudest moments. In more recent years, before her health limited her travel, she was always the smiling face at the catalog table. Diane's contributions to local clubs was also substantial. She, along with her husband Dick, was a founding and lifetime member of the Nebraska Midlands SSC. She contributed to the Midlands Club in many ways, including Club Officer, Newsletter Editor and Show Chairman. She was also a lifetime member of the all-breed Nebraska KC. She and Dick will always be remembered for their summer picnics/fun matches. Those were always memorable events from the puppies and dogs to the food and fun. An especially fun day was the match where Diane was judging and it was also her 50th birthday. When the dog Dianne Krantz was showing was put on the table, she was holding a black rose in her mouth for the judge! Diane W. was surprised to say the least and even more so when each and every exhibitor handed her a black rose! Fun days! Diane contributed to the dog world in numerous other ways as well. She was breeder of ASSA Winners Dog, 1971. In addition to breeding and finishing several other Sheltie champions, she was a professional handler. She handled Shelties, Collies (Especially Steve Field/Parader Collies), as well as assorted other breeds. She was a judge's mentor for Nebraska until 2007 and then became a judge's mentor in Colorado. In addition to her lifelong interest in Shelties, she and Dick loved to travel and spent many years crisscrossing the United States and Canada. She was an avid photographer and her pictures of her beloved Rocky Mountain National Park are truly breathtaking. She was very artistic and became an expert at interior design, painting and everything else she tried. Diane was also an excellent cook. On a personal note, my husband and I bought our first Sheltie from Diane and Dick almost 50 years ago, which led to a lifetime of friendship and Sheltie enthusiasm. We experienced some memorable dog shows and vacations together, but mostly I remember what a warm host she was and how she made everyone feel welcome and wanted. Her home was always open. Contributed by Glenda Price ++++++++++++++++++++++++++++++++++++++++++++++++++++++++++++++++++++ Website Editor - Diane Caldwell Wolcott died January 22, 2021 ++++++++++++++++++++++++++++++++++++++++++++++++++++++++++++++++++++ Obituary: Jeanne Marie Bird McDonald Jeanne was born June 7, 1940 in Omaha, NE and passed away August 15, 2018 in Belfair, WA. She is survived by her daughter, Renee Everson; son, Ronnie McDonald; brother, John Bird; sister, Danalee Teeters; and numerous extended family members and friends. Arrangements by Edwards Memorial, Funerals Homes, Chapels and Crematories. 253-566-1008 <<<<<<<<<<<<<<<<<<<<<<<<<<<<<<<<<<<<<<<<<<<<<<<<<<<<<<<<<<<<<<<<<<<<<< Obituary: Beverly A. Hansen, age 76, Ashwaubenon, died Thursday, August 13, 2015. She was born June 26, 1939 in Omaha, Nebraska to the late John and Lucille (Brandt) Townsend. Beverly met Ernest Hansen on a blind date while he was stationed at Offutt Air Force base. They later married on September 5, 1958. Ernest then moved her back to his home town of Green Bay. Later they spent 35 years as residence of Crivitz, WI. Beverly was the manager of Crivitz Bakery and was employed at Rock Garden Bakery. She was a member of High View and Sundown Golf Leagues. She enjoyed crafting, gardening and her flowers. Beverly was very involved with her grandchildren's activities and never missed attending them. Beverly is survived by her husband of 57 years, Ernest; her children, Russell (Julia), Lori (Jon) Borgen and Eric (Cheryl); five grandchildren, Kelsey Borgen, Mitchell Borgen, Jeanette Hansen, Hailey Hansen and Evan Hansen; her brother, Ray, Omaha; six sisters, Marilyn Smith, Missouri, Janet Markmann, Omaha, Geraldine (Gene) Zarek, Omaha, Lorraine (Gary) Lammers, Ohio and Mary Lou Brumley, Omaha; her sister-in-law and brothers-in-law, Karen (Richard) Granholm, Norman (Rae) Hansen and John (Margo) Hansen. She was preceded in death by her sister, Phyllis Beacraft. Visitation for Beverly will be held Monday, August 17, 2015 at Bethel Lutheran Church, 1350 Bond Street, from 9:00 am until the funeral service at 11:00 am with the Rev. Amy Engebose officiating. Burial will be at Fort Howard Memorial Park. Online condolences may be expressed at www.lyndahl.com. The family would like to express a special thank you to the doctors, therapist and ICU staff of Bellin Hospital for their care of Beverly during her battle with ALS. In lieu of flowers, memorials may be made to the ALS Association Wisconsin Chapter. ********************************************************************* Obituary: Roger Ernest Peterson - b. 3 May 1940, d. 17 November 2020 Roger Ernest Peterson, age 80 of Cottage Grove, Minnesota, passed away unexpectedly on November 17, 2020. Roger was active in the local government setting, serving as the Mayor of Cottage Grove for 16 years. He was also a longtime political lobbyist for AMM (Association of Metropolitan Municipalities). Roger was an active volunteer for South Washington County Cable Commission, Stone Soup, Youth Service Bureau, All Saints Lutheran Church, Lion's Club, Jaycees. Boy Scouts of America, Buick Club, Minnesota Street Rod Association and the Cottage Grove Strawberry Festival. Roger's hobbies and interests included antique automobiles, scale model autos, crossword puzzles, Sudoku and "gardening by checkbook." Roger is survived by his wife Myra; eight children Mark (Kala Tomjack) Peterson, Tracy (Mick) Johnson, Rick Peterson, Deb (Tim) Jahnke, Terry Lobeck, Eric (Nancy) Lobeck, Lynn (Allan) Harrelson, Chris Lobeck (Robyn Capistrant); 21 grandchildren, Nick, Theresa, Ben, Samuel, Claire, Lars (Regan), Kirsten, Zelphia (Noah), Aurora, Connor, Cole, Torarin, Thomas, Jon, Eric, Amanda, Curt, Ray, Trevor, Brad (Molly), Alyssa (Austin); four great-grandchildren Brooklynn, Nate, Mariah, and Christina and brother, Ron Peterson. He is preceded in death by his parents; one child (Jon); sister-in-law Bev. He graduated from Benson High School Omaha in 1958. Roger attended Omaha University (UNO) and was a member of TKE fraternity. A Celebration of Roger's Life will be held at a later date. ******************************************************* Obituary:    Burrows, Carole Joan January 2, 1941 - May 26, 2020 Carole was born January 2, 1941, in Peoria, IL, to Eugene and Pauline (Stewart) Hutton and graduated from Omaha Benson in 1958. On April 29, 1960, she married J. Richard "Dick" Burrows in Missouri Valley, IA. While raising their five children, she worked part-time at Millard Public Schools. She earned her bachelor's degree in Social Work from the College of St. Mary in 1983 and, shortly after, completed a graduate Certificate of Gerontology. Carole was a Social Worker at Maple Crest Nursing Home. She served as a Stephen Minister and elder with the Presbyterian Church. Her relationship with Jesus and strength of faith has carried her through life's journey. Carole was generous with her time volunteering wherever possible, in whatever manner was useful. She enjoyed traveling, pottery, painting, gardening, and experiencing nature. Carole found great joy in spending time with family and building lifelong memories, including family reunion vacations taken with their kids and grandchildren. Each trip was followed by a memory album for all to reminisce years later. Carole is survived by her husband, Dick; brother, Gerald Hutton; children: Charlene (Tom) Trawicki, DeAnna (Robert) Kister, Kenneth (Kristin) Burrows, Sue (Mark) Hoffman, and Bradley (Lisa) Burrows. She has been a loving grandmother adored by Lauren White, Dayne Burrows, Christina Grubb, Jason White, Amanda Grubb, Grant Burrows, Jack Burrows, and Cameron Burrows. Carole is preceded in death by her mother and father. MEMORIAL SERVICE: Friday, May 29th, 1pm, at the West Center Chapel. Memorials are suggested to Heartland Hope Mission. To view a live broadcast of the Memorial Service, go to our website and click the View Live Cast button on our homepage. HEAFEY-HOFFMANN-DWORAK-CUTLER West Center Chapel, 7805 W. Center Rd. 402-391-3900 | www.heafeyheafey.com *********************************************************************** Obituary: Mack, DeAnne K. (Heldt) B. Feb 13, 1940 - d. May 29, 2018 Of Omaha. The Remarkable Surprises Inside Her House Credit: Daughter-in-law Elizabeth Diane Mack (Edited to fit in space) A friend of my mother-in-law's offered to bring in an estate sale team she volunteered for through the local Kiwanis chapter. As they worked, though, they began discovering handmade quilts in various stages, a few complete, most half-done. First one, then two, then four, and soon, a dozen. The bedspread-size quilts DeAnne had started lay unfinished in piles on floors. First-place ribbons from local quilt shows were pinned on many, tiny labels, "Handmade by DeAnne," carefully sewn into back corners. And then, it turned out, there were more than just quilts. Many of DeAnne's intricately detailed fiber art wall hangings lay buried on couches. They featured Asian geishas, Amish farm scenes, city skylines and hens and chicks. A Hidden, Enormous Collection of Quilts and Paintings While we knew DeAnne had belonged to several local quilt groups, we had brushed off her hobby as just another avenue for her hoarding. For Christmases and birthdays, she would often gift family with potholders, pincushions, table runners and other hand-made knickknacks, but the enormity of her "collection" was kept hidden. Credit: Elizabeth Diane Mack DeAnne Mack's family didn't know she created beautiful quilts like this As the estate-sale team tediously worked their way through the house, framed watercolor and oil-acrylic paintings by DeAnne were also unearthed from the garage and basement. Portraits of weathered barns and barbed wire fences, windmills on open prairies and snow-covered landscapes soon filled an entire room. Faded business cards saying "DeAnne's Art," some with prices handwritten in the corners, were found among the paintings. When we saw the art, my husband said his mother painted in his youth, but had long since laid down her brush and taken up quilting as a new outlet for her obsessive spending and compulsive stockpiling. Turns out, DeAnne's talent as a multi-faceted artist had been buried for years — literally. We knew we wanted to see her work completed, and shared. As we collected the remnants of DeAnne's artistic life, we slowly began the task of getting the unfinished quilts finished, hiring a quilter from one of her local groups to complete some and traded material to a church group to finish another. We also got many of her paintings framed. Then, we invited extended family in to take one of DeAnne's paintings or quilted pieces as a keepsake. And by summer, we had the first of two estate sales, billed as a "quilter's paradise." The Quilt Walk in Her Memory The summer after my mother-in-law's death, we displayed a few of her traditional quilts and fiber art wall hangings in a local quilt walk, with a sign, "In Loving Memory~DeAnne Mack" on each quilt. We had failed during my mother-in-law's lifetime to appreciate her talents and hoped that by displaying her work, others would recognize them. Credit: Elizabeth Diane Mack Another of Mack's hidden talents: painting On the day of the quilt walk, we strolled the gardens where DeAnne's quilts hung on display, as admirers with white-gloved hands talked of her faux piped binding, intricate corners and appliquéd tops. Her heirlooms serve as a reminder that underneath it all lay a gifted artist, even perhaps, a creative genius. xxxxxxxxxxxxxxxxxxxxxxxxxxxxxxxxxxxxxxxxxxxxxxxxxxxxxxxxxxxxxxx Obituary Nancy Ellen Robbins Mangus b. 15 Feb 1940 d. 28 Feb 2020 Mangus, Nancy Ellen Robbins February 15, 1940 - February 28, 2020 Born in Kearney, NE to Avon and Beulah Robbins. She was a 1958 Graduate of Benson High School, Nancy went on and received a Bachelor's Degree from Mills College, Law Degree from Boston College and a Master's Degree from the University of Southern California. Nancy, an Omaha resident for many years, worked for the Department of Defense with her final assignments based in Germany, Japan and Guam. She is preceded in death by her parents, Avon "Robbie" and Beulah "Bea" Robbins. Survived by husband, Guy David Mangus; daughter and son-in-law, Courtney and Matthew Ferer of The Vail Valley in Colorado; grandchildren, Emma and Rhys Ferer. Celebration of Life Service at a later date. HEAFEY-HOFFMANN DWORAK-CUTLER West Center Chapel, 7805 W. Center Rd. (402) 391-3900 | www.heafeyheafey.com * * * * * * * * * * * * * * *
Today's Featured Biography
1998 Bio - Rod and his wife Joan have two children and two granchildren. He works as an architect. Rod enjoys church, fishing, hunting, travel, children and grandchildren. He has started his own Auto CAD architectural business.


Classreport.org provides free Class Websites for every graduating class of every high school with free access for all.
We are one of the premier social networking sites dating back to 2003. We are a small, family-owned business and yet freely host over a million class websites. Our Story
Classreport holds a special place in the hearts of our users: Bravos.
Class Support Status

Our Class Site is Fully Funded!
Additional contributions are welcome and will be used to provide support for the larger Classreport community.
CLICK HERE TO LEARN MORE
Class Directory

Where in the world are you? Stats
Recent Profile Updates
| | |
| --- | --- |
| | Apr 3 |
| | Mar 12 |
| | Mar 9 |
| | Feb 27 |
| | Jan 3 |
| | Jun 11 |
| | Jun 11 |
| | Jun 5 |
Class Poll
There is no Active Poll
at this time.
Recent Reviews
There are no reviews on file
at this time.
This area is for comments on
books, movies, music,
restaurants, etc.
Visit Other Classes
The Office
(Admin use only)
If you have any questions or comments regarding this website, please contact:

Class Administrator
Diane Caldwell Wolcott

Would you like a sneak peek at a
non-functioning view of The Office?

This class reunion website is a complementary addition to your existing alumni resources.
It is a product of Classreport, Inc. and may not be affiliated with Benson High School or its alumni association.

Does your High School Class have a full-featured Alumni Website? Start One Now!
(Or start one for your Mother, Father, Sister, Brother, Spouse, Son, Daughter, Friend . . .)



"Just discovered your product today while trying to locate classmates ahead of our 50th reunion in 2020. The fact that you did this in a noncommercial manner in a world where everything has a price tag deserves recognition and respect, in my view. Thank you and good luck in all your endeavors." 5/5/2018


"THANKYOU so much for handling this for us! We are so appreciative! It looks GREAT!" 5/2/2018


"Thank YOU for helping us get the word out! I've posted a link to the website on our FB group page and vigorously encouraged other classmates to contribute" 4/27/2018


"Your site is amazing. Kudos to you and your staff. You have benefitted so many high school alumni in organizing their class reunions." 10/4/2017


"Thanks to classreport.org our class website played a huge part in the success of our Reunion. We greatly appreciate your wonderful support." 10/3/2017


"Thanks for all your hard work and ingenious spirit." 9/25/2017


"Thanks guys, you are Good!!" 9/23/2017


"I love your service and will continue to support you." 9/14/2017


"We have been using the website for more than 10 years now. It's still the best website out there for classmates to meet, collect their info and advertise their reunions. Thanks for inventing it all!" 9/11/2017


"Thank you for your assistance. It was very helpful. Looks good!" 9/5/2017



More bravos at: www.classreport.org/bravos




18th Anniversary!
There are no fees required for participation on this site.
Please support this site with your voluntary contributions.
We cannot provide this service without your support. Thank You!
Please read Our Story
ClassTraQ 11.003 Software Copyright � 2003 - 2017 Classreport, Inc. All Rights Reserved e1 amsc: 1