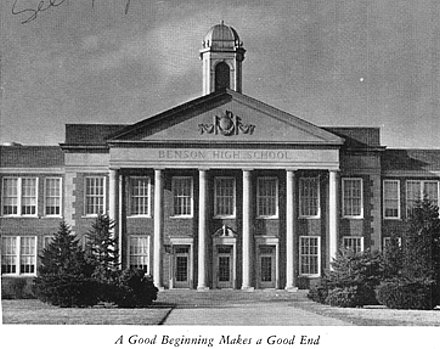 This photo can be changed by your Class Administrator.


This site is operated and funded by members of our class.
Class Administrator: Diane Caldwell Wolcott
Page Hits: 12,472


---
Event Announcement!
---
---
Photos from the 60th Reunion


https://drive.google.com/open?id=1oUc9gXFFRdd_tZPGgpZ9HaJF3k89T9IL

https://drive.google.com/drive/folders/1-l7HsmqHJl8gXTCiBpQw_M1ZYM8DyrQ8?usp=shari

ENJOY

Wendy Baker and Pat Anderson Wagner
---
Class News

9/1/2018
Hall of Fame Class of 1958 Benson High
Dana (Woody) Bradford III Djel Ann Gallup Brown Paul Brown Karen Kaufman Crawford Neal Hansen Dr David Kentsmith MD Barbara Kuhn Janice Dunkle Stoney Nancy Singles Bradshaw-Swaney Ed Young . . . Continued

8/30/2018
List of those that attended our 60th Reunion
Brad Baker, Bonnie R Barbe, John R (Jack) Batchelor, Janet Wallin Berls, Carma Bernhardt Bowerman, Sharon Brader Larson, Dana (Woody) Bradford, Denny Brown, Paul Brown, Djel Ann Gallup Brown . . . Continued

6/15/2008
List of those that attended our 50th Reunion
Special THANKS go to out Reunion committee: Woody Bradford, Djel Gallup Brown, Paul Brown, Diane Mueller Childers, Bonnie Barbe, Pat Anderson Wagner, Judd Wagner, Larry Miller, Judy Burger . . . Continued


Lee Rife spoke at our 60th and gave a Eulogy for our Deceased... "I'd used this poem in a eulogy for a beloved cousin which had gone well, so it seemed like it should work for us too. Saturday afternoon though, thinking it over, I figured it needed an introduction. So, "I left Omaha in 1975 and since, don't make it back much except for our reunions. Then when I come it's always a rush, driving over those streets with the familiar names, over the hills which is in our blood, by the houses where my friends lived and to the house where I grew up where I'd park and walk the way we used to up to my old grade school, then drive up to Benson. But more, it's seeing all of you again and remembering those now gone which almost makes me cry." Not memorized, I don't know exactly what I said, but it was close. Then, it's OK to cry if one is acting, but not when speaking: So this is for Jay Snell, Nancy Campbell, and all the others now gone. (From William Blake...") * * * * * * * * * * * * * * * "Little Lamb who made thee, doest thou know who made thee? Gave thee life and bid thee feed, by the stream and o'er the mead. Gave thee clothing of delight, softest clothing wooly bright. Gave thee such a tender voice, making all the vales rejoice. Little Lamb who made thee, doest thou know who made thee? Little Lamb I'll tell thee, Little Lamb I'll tell thee! He is called by thy name, for he calls himself a Lamb: He is meek and he is mild, he became a little child: I a child and thou a lamb, we are called by his name. Little Lamb God bless thee. Little Lamb God bless thee." * * * * * * * * * * * * * * *
Today's Featured Biography
2008 - My husband, Leonard and I have three children and five Grandsons. I enjoy reading, yard work. (I do my own mowing) and gardening, but most of all I enjoy my grandsons. I'm involved with the DAV. We love to travel, including trips to Korea, Costa Rica, Paris and Hawaii. We also have taken many cruises.


Classreport.org provides free Class Websites for every graduating class of every high school with free access for all.
We are one of the premier social networking sites dating back to 2003. We are a small, family-owned business and yet freely host over a million class websites. Our Story
Classreport holds a special place in the hearts of our users: Bravos.
Class Support Status

Our Class Site is Fully Funded!
Additional contributions are welcome and will be used to provide support for the larger Classreport community.
CLICK HERE TO LEARN MORE
Class Directory

Where in the world are you? Stats
Recent Profile Updates
| | |
| --- | --- |
| | Aug 19 |
| | Jul 9 |
| | Jun 4 |
| | Jun 4 |
| | Mar 30 |
| | Mar 13 |
| | Feb 1 |
| | Feb 1 |
Class Poll
There is no Active Poll
at this time.
Recent Reviews
There are no reviews on file
at this time.
This area is for comments on
books, movies, music,
restaurants, etc.
Visit Other Classes
The Office
(Admin use only)
If you have any questions or comments regarding this website, please contact:

Class Administrator
Diane Caldwell Wolcott

Would you like a sneak peek at a
non-functioning view of The Office?

This class reunion website is a complementary addition to your existing alumni resources.
It is a product of Classreport, Inc. and may not be affiliated with Benson High School or its alumni association.

Does your High School Class have a full-featured Alumni Website? Start One Now!
(Or start one for your Mother, Father, Sister, Brother, Spouse, Son, Daughter, Friend . . .)



"Just discovered your product today while trying to locate classmates ahead of our 50th reunion in 2020. The fact that you did this in a noncommercial manner in a world where everything has a price tag deserves recognition and respect, in my view. Thank you and good luck in all your endeavors." 5/5/2018


"THANKYOU so much for handling this for us! We are so appreciative! It looks GREAT!" 5/2/2018


"Thank YOU for helping us get the word out! I've posted a link to the website on our FB group page and vigorously encouraged other classmates to contribute" 4/27/2018


"Your site is amazing. Kudos to you and your staff. You have benefitted so many high school alumni in organizing their class reunions." 10/4/2017


"Thanks to classreport.org our class website played a huge part in the success of our Reunion. We greatly appreciate your wonderful support." 10/3/2017


"Thanks for all your hard work and ingenious spirit." 9/25/2017


"Thanks guys, you are Good!!" 9/23/2017


"I love your service and will continue to support you." 9/14/2017


"We have been using the website for more than 10 years now. It's still the best website out there for classmates to meet, collect their info and advertise their reunions. Thanks for inventing it all!" 9/11/2017


"Thank you for your assistance. It was very helpful. Looks good!" 9/5/2017



More bravos at: www.classreport.org/bravos




16th Anniversary!
There are no fees required for participation on this site.
Please support this site with your voluntary contributions.
We cannot provide this service without your support. Thank You!
Please read Our Story
ClassTraQ 11.003 Software Copyright � 2003 - 2017 Classreport, Inc. All Rights Reserved e1 amsc: 1