Please Support Our Class Website in 2021. Can you chip in today?
All contributions will be DOUBLED through October 31!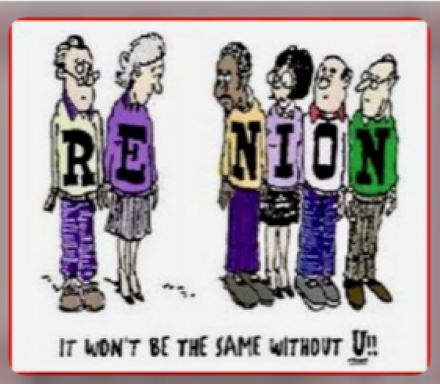 Happy Autumn - Class of 1978


This site is operated and funded by members of our class.
Class Administrator: Heike Will Hyson
Page Hits: 8,525


---
40 Year Reunion Announcement!
---
BHBL Reunion - Class of 1978
Recap of our Reunion Weekend
The second weekend in August 2018, was overcast and drizzly, HOWEVER, the classmates of 1978 didn't mind because they were overjoyed to reunite with each other and raise the roof partying into the wee hours of the morning, just like the old days! What a great time at The Charlton Tavern Meet & Greet, hosted by our very own Michael Maloney and Sue Quinn Maloney! Thanks for your perfect hospitality and delectable food selection. People wandered from one group to another eager to meet the next classmates. Not recognizing many with their bald heads and extra cushioning, gray hair and glasses, we all conspicuously sought out the name tags with pictures and with a gasp, acknowledged the face in front of us which was gaining familiarity as we peered into their eyes and made the association with the yearbook picture! We embraced and exchanged stories about our travels over the last few years. We raised our glasses and toasted and we smiled for the cameras as the flashes were going off in every corner of the tavern! What a grand get-together! The following evening, for our 40th BHBL Reunion, we all dressed-to-impress, adorned with our formal attire. There were new faces and many from the Meet & Greet the night before! Again, we moved from one group and table to the next and introduced ourselves, pushing our pictured nametags in others' faces! It was a spectacular event as we mingled, cultivating old friendships and forging new ones! The perceived differences we held onto so tightly in high school, seem to have all melted away and classmates were just delighted to share in the commonality of our togetherness after 40 years! Everybody was well-behaved and fairly subdued, until they had a couple drinks and then the Lupi twins kicked up their heels on the dance floor and showed everyone how to boogie to the disco music! Then, many others loosened up and joined in with stockinged feet and swing and line dancing and it was just fabulous fun! Still others preferred to gather on the Lighthouse Restaurant patio, alongside the Mohawk River, and chatted about old times and new. Mike Maloney, of course, entertained everyone as he smoked his cigar and remarked that he can't text because his fingers are too fat and the voice recognition feature for texting doesn't work either, because it can't understand his raspy language and just types out garble! LOL

Thanks to Cori Schorr Kinns for being my partner-in-crime as we had many late-night hour text conversations about planning, exchanging lists and finding classmates. Thanks to Louise MacCormick, Lynn Rivers and Paula Rowley for their exceptional skills in putting together such a memorable table for our deceased classmates. Thanks to my good friend Emma Mullen who helped with the set-up and raffle tickets and was just a great support all around (1975 Mohonasen graduate). Thanks to Rit Rizzo who coordinated the event, tabled a tasty buffet and who gave us a great price. Thanks for the specialized service from the Lighthouse bartender and waiters-waitresses too. Thanks to DJ Joey & Company who kept the dance tunes spinning. Thanks to all the helpers who contributed their reunion expenses as a donation to help balance the final figures. Thanks to Tom Wagner for organizing a very well-attended and worthwhile tour of our BHBL High School, lead by the new principle. All in all, it was a group effort and I SO appreciate everything that was done to contribute to achieving this exquisite end result.


40th REUNION FINAL ACCOUNTING:
A heartfelt THANK YOU to all who donated so we were able to balance the budget!
The following link has all the numbers and supporting documentation.
40th Reunion Reconcilliation.

40th REUNION PICTURES:Enjoy Meet & Greet and Reunion pictures with the following link:
Pictures.

POWER POINT PRESENTATION:2018 40th Reunion - Send me your old pictures to add to this Power Point for our 45th!
Power Point.





REGISTERING ON THIS WEBSITE:

There is no cost to register or to use this website. If you have not yet registered, please do so by clicking on the "Click Here to Register" link to the right, then select your name from the list. If your name is misspelled, our apologies, you can easily edit your listing. If your name is not listed, please contact me at the email address below. Registering on this site will put you on a mailing list for reunion announcements. Please consider adding biographical information to your listing. We have uploaded "Current Photos" for almost all of the alumni who attended the 40th reunion, plus for some other alumni as well. If you would like a "Current Photo" displayed in your listing (or a different one than is already there), please send me a picture. Click on the "Everyone" link to the right or in the "Class Directory" tab above, to see all classmates' pictures that have been entered thus far.

An administrator may have already added an email address to your listing. If so, that email address will NOT be visible to other users. If you would like your email address to be visible to other registered users of this site (i.e., your classmates), then choose "Yes" to the "Display email address to registered class members?" question. NOTE: Unregistered visitors to this site cannot see anyone's email address, regardless of the privacy setting.


This ClassReport.org site is NOT associated with the BHBL Class of 1978 - it acts as a host for thousands of class reunion websites. Many elements on these pages, including the requests for donations, are put up by the ClassReport.org company, not the BHBL Class of 1978. Any donations that are made to this website do NOT directly benefit the BHBL Class of 1978 (except for enabling certain useful administrative tools), but go to the developers of this nicely designed website.

If you have email addresses of "missing" alumni, have found mistakes in this site or have news of deceased alumni, please email the information to: [email protected]









---
Class News

6/19/2020
Mary Louise Fallon 1/23/1960-6/9/2020
"Twighlight and evening bell, And after that the dark! And may there be no sadness of farewell, when I embark." A poem by Lord Alfred Tennyson at your departure . . . Continued


Our Class Message Board
Your participation is requested!
We would like to hear from you. Post your messages here.

ADD NEW VIEW ALL

Indicates an included photo
| | |
| --- | --- |
| Mary Louise Fallon | Heike Will Hyson |
| It is with greatest sorrow that I announ | Thu 6/18/2020 10:51 PM |
| Message | krue |
| Thank you for creating IN MEMORY of page | Thu 10/18/2018 7:12 PM |
| Message | Heike Will Hyson |
| I'm excited about how our class website | Wed 10/17/2018 5:08 PM |
| HELP FIND OUR CLASSMATES! | Heike Will Hyson |
| We all had so much fun at our runion wee | Sat 9/1/2018 12:14 PM |
| Message | Heike Will Hyson |
| Greetings Classmates. I've spent many | Sun 7/8/2018 3:53 PM |
Today's Featured Biography
Currently living in California, married with a son in grade school and three stepkids (a high school freshman son, sophomore daughter at Duke, senior daughter at Yale).

Took time off after high school to earn money for college, then went to U Mich (Psychology and Languages). Won a writing contest and that led me to the LA area, where I worked as a writer for TV and corporate stuff, and eventually moved to northern CA, where I got into the interactive media business via Apple. I founded a company that worked with Warner Bros., Peter Gabriel, the American Film Institute, and later Deloitte, DARPA, Oracle and many others, producing interactive entertainment and advanced information systems. I joined Netflix in 2007 and was Director of Product for launching their move to streaming movies. After that I got to enjoy time off, got married, and have been consulting on UX and product for startups.

My wife and I love sharing traveling and the outdoors with our kids and friends. She's an MD who now spends her free time doing modern ballet and jazz dance, and I've been keeping up with music, playing sax in a jazz ensemble in Berkeley and with friends' rock and roll bands.

If any of you make it out to the San Francisco Bay area, look us up!


Help Us Locate These Missing Classmates:
Email me contact info at [email protected], include mailing address, preferred email and mobile number.  Our goal is to create a complete database with all our classmates, so we can communicate news, events and future reunions.  All information will be kept strictly private and only myself and Cori Schorr Kinns have access and it will always remain confidential, unless you yourself give written permission for release .
Family News Summary
Enter your Family News Item choosing from our pre-defined categories:
Anniversary, Award, Birth, Death, Diagnosis, Engagement, Graduation, Lottery, Retirement, Vacation, Wedding, Other.
There is no Family News on file
at this time.
Calendar
There are no Calendar items on file
at this time.

Today's Featured Class Member Website
Heike Will Hyson

Classreport.org provides free Class Websites for every graduating class of every high school with free access for all.
We are one of the premier social networking sites dating back to 2003. We are a small, family-owned business and yet freely host over a million class websites. Our Story
Classreport holds a special place in the hearts of our users: Bravos.
Class Support Status

OUR CLASS SITE IS FUNDED THROUGH
September 2021
---
This site is funded by our
Voluntary Contributions

Click Here to Chip In


Class Directory

Where in the world are you? Stats
Recent Profile Updates
| | |
| --- | --- |
| | Jun 1 |
| | Apr 3 |
| | Mar 14 |
| | Feb 21 |
| | Feb 17 |
| | Feb 17 |
| | Feb 17 |
| | Feb 16 |
Class Poll
There is no Active Poll
at this time.
Featured Links
There are no Featured Links
at this time.
Recent Reviews
There are no reviews on file
at this time.
This area is for comments on
books, movies, music,
restaurants, etc.
Visit Other Classes
The Office
(Admin use only)
If you have any questions or comments regarding this website, please contact:

Class Administrator
Heike Will Hyson

Would you like a sneak peek at a
non-functioning view of The Office?

This class reunion website is a complementary addition to your existing alumni resources.
It is a product of Classreport, Inc. and may not be affiliated with Burnt Hills-Ballston Lake High School or its alumni association.

Does your High School Class have a full-featured Alumni Website? Start One Now!
(Or start one for your Mother, Father, Sister, Brother, Spouse, Son, Daughter, Friend . . .)



"Just discovered your product today while trying to locate classmates ahead of our 50th reunion in 2020. The fact that you did this in a noncommercial manner in a world where everything has a price tag deserves recognition and respect, in my view. Thank you and good luck in all your endeavors." 5/5/2018


"THANKYOU so much for handling this for us! We are so appreciative! It looks GREAT!" 5/2/2018


"Thank YOU for helping us get the word out! I've posted a link to the website on our FB group page and vigorously encouraged other classmates to contribute" 4/27/2018


"Your site is amazing. Kudos to you and your staff. You have benefitted so many high school alumni in organizing their class reunions." 10/4/2017


"Thanks to classreport.org our class website played a huge part in the success of our Reunion. We greatly appreciate your wonderful support." 10/3/2017


"Thanks for all your hard work and ingenious spirit." 9/25/2017


"Thanks guys, you are Good!!" 9/23/2017


"I love your service and will continue to support you." 9/14/2017


"We have been using the website for more than 10 years now. It's still the best website out there for classmates to meet, collect their info and advertise their reunions. Thanks for inventing it all!" 9/11/2017


"Thank you for your assistance. It was very helpful. Looks good!" 9/5/2017



More bravos at: www.classreport.org/bravos




18th Anniversary!
There are no fees required for participation on this site.
Please support this site with your voluntary contributions.
We cannot provide this service without your support. Thank You!
Please read Our Story
ClassTraQ 11.003 Software Copyright � 2003 - 2017 Classreport, Inc. All Rights Reserved e0 amsc: 1