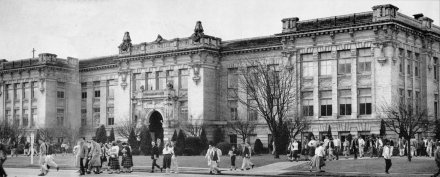 "Never before and never again"


This site is operated and funded by members of our class.
Class Administrator: Barbara Dowen Lindberg
Page Hits: 44,757


Class News

8/25/2016
Early Everett Photos
Here are 225 Historic Everett photos from the Everett Public Library's collection. Many are from the 1940s and 1950s. They were compiled by '59-er Tom Gaines. For the moment they are not . . . Continued

6/9/2016
EHS Nesika now online.
The complete (almost) collection of Everett High School Nesika yearbooks from 1909 through 2013 is now available online. The Everett Public Library, in cooperation with EHS, arranged for th . . . Continued

1/13/2011
«« We Are All Here Now »»
When the EHS '59 administrators first set up our class presence here, we worried that some people may be concerned about privacy issues on the internet, so we decided that everyone who wante . . . Continued


- - - - - - - - - -

2021 80th Birthday Party Photos can be seen here: 80th Party

- - - - - - - - - -

2016 75th Birthday Party Photos can be seen here: 75th Party

- - - - - - - - - -

2014 55th Class reunion Photos can be seen here: 55th Reunion

- - - - - - - - - -

2011 70th Birthday Party Photos can be seen here: 70th Party

- - - - - - - - - -

2009 50th Class Reunion Photos can be seen here: 50th Reunion


August 19, 2021 - Legion Park - Noon to 4:00 PM

We will gather to celebrate

The 4-TH ANNIVERSARY OF OUR 20-TH BIRTHDAY's.

Everett High School Birthday Committee Meeting April 7, 2021

The meeting was convened at 12:00 p.m.

by Cec Stenning, via Zoom. Members present were: Cec Stenning, Tom Gaines, Ann Purnell, Barbara Lindberg, Barbara Cashen, Ron Ericksen, Mary Carlson, Connie Gurvitz, Carol Forsberg, Diane Berg, and Judy Morrison. Class of 1959 Update – Barbara Lindberg reported that the verified deaths of classmates has now reached 236, since she was able to verify 9 other additional deaths of classmates and one guest registrant who attended through 9th grade. Treasurer's Report - Ann reported that the balance in our account is $2,784.34. Ann also reported that Washington State protocols, at this time, mandate 50% capacity inside of the lodge at Legion Park, which would amount to 50 people maximum inside; however, we can always sit and eat outside too and protocols may change by August. 80th Birthday Party Invitation Letter – Mary Carlson reported that she is writing the letter of invitation and they will be mailed or emailed in early May before the 15th . Mary requested input from the committee on the contents of the letter and discussion followed. It was decided that the letter should include that all Washington State COVID protocols will be followed, with the possibility that proof of full vaccination and masks may be required. Mary also requested that if anyone has some fun images or poetry that would be appropriate for an 80th birthday party to please send those to her. 80th Birthday Party – The party will be held at Legion Park on Thursday, August 19, 2021, from 12:00-4:00 p.m. • We have secured Legion Park from 11:00-4:30 to allow for set up/clean up. The party itself will be held from 12:00-4:00 p.m. • Registration Table: Barbara Lindberg and Carol Morton will check classmates and guests in and distribute the name tags. • Price: $10.00 per person • Menu: Firehouse Subs, potato salad from Costco, coleslaw (courtesy of Ann Purnell), a Happy 80th Birthday small cake (not for consumption, but for birthday wishes only), and individual cupcakes will be served to those attending from the Port Gardner Bay Bakery. The class will provide bottled water; however, please feel free to bring your own beverages, if you wish, since we have arranged for a liquor license. • Gloves for those handling any food will be provided; and, hand sanitizer will be available, along with some disposable masks (courtesy of Carol Morton), if needed due to protocols, and some classmates forgot to bring them. • Decorations: Carol Cassidy has volunteered to decorate the tables on the inside of Legion Park Hall. Carol Morton will bring blue and gold balloons for the centerpiece on the serving table. • Memorabilia: Barbara Cashen will be bringing some memorabilia to display. Please feel free to bring memorabilia that you would like to display, as well. The stage in Legion Hall would be a good place to do that. You can purchase display boards at the Dollar Stores for $1.00. Note: You probably do not want to bring anything that you can't afford to lose. • Classic Cars: There will be no organized Classic Car show, but feel free to drive your classic car to the birthday party so that classmates can admire your car and reminisce about the "good ole days" and the cars that cruised Colby. • Music: Tom Gaines volunteered to bring his collection of 50s music and his speakers for background music. • Next meeting, Wednesday June 16, 2021 at Carol Cassidy's home starting at noon and pizza will be provided. If you need Carol's address; call or email Tom: 425-481-3431; email: [email protected] Meeting adjourned at 12:51 p.m. Minutes submitted by Barbara (Dowen) Lindberg ****************************************** ******************************************

Everett High School 60th Reunion Follow-Up Committee Meeting October 9, 2019 The meeting was convened at 4:15 p.m. by Cec Stenning at Alfy's Pizza in Everett, with pizza provided by our class treasury. Members present were: Cec Stenning, Ann Purnell, Barbara Lindberg, Al Lansing, Barbara Cashen, Ron Ericksen, Judy Morrison, Mary Carlson, Larry Bielser, Bernie Nelson, John Kuljis, Helen Esswine, Nancy Hanks, Carol Cassidy, Connie Gurvitz, Jeannie Geddis, and Dave Ramstad. Treasurer's Report - Ann reported that the balance in our account is $3,283.59. The bus trip made $25.00; the cakes cost $60.00; the total cost to the class was $64.11, including envelopes, stamps, copies, etc.; and there were 142 attendees. Reunion Reviews - The reviews that the committee received were very good; people enjoyed the venue; the lunch received rave reviews; the band was an added bonus The golfing was enjoyed by all the golfers (10-12 golfers), in which Ned Hill was the winner. The bus tour also received excellent reviews; and Scuttlebutt's Brewery was the perfect place for a meal, drinks, and conversation after the tour. All in all, the 60th EHS Reunion was a hit with all who attended. Minutes submitted by Barbara (Dowen) Lindberg ******************************************

THE EHS'59 60-YEAR REUNION

THE MAIN EVENT

Date: Thursday, August 22, 2019

Place: Everett Golf & Country

Time: 12:00 noon - 4:00 pm

Cost: $40.00 per person*

Additional Activities: Thursday August 22: Golf: Bob Trosvig is organizing a golf opportunity at EGCC for 9 holes of golf with a tee time of 9:00a.m. on the 22nd before the lunch. Cost for this will be $40.00 per golfer, plus $10.00 per person for a 2-person golf cart. Friday August 23: Everett Bus Tour: For Friday, the 23rd we have planned a bus tour of Everett to highlight some of Everett's history, along with pointing out the changes and development in Everett since 1959. This trip will begin by Scuttlebutt Brewing Restaurant, 1205 Craftsman Way, #101, Everett, at 1:00 and will take 2 hours to complete. The tour will end back at Scuttlebutt's, which may be a fun place to continue visiting with classmates. Chinook Charters will be providing the tour to the first 55 people who sign up. Finally: Best wishes to all 59ers from your committee. Your Class Reunion Committee ****************************************** Tom Gaines and Barbara (Dowen) Lindberg have the responsibility of keeping up our information on our class website-Classreport.org If you have any updates please contact Tom: 425-481-3431; email: [email protected] or Barbara: 425-245-8343; email: [email protected].



- - - - - - - - - -
Today's Featured Biography
After graduation joined the Army and took basic training at Fort Ord, California and went to military school at Fort Benjamin Harrison. Spent 1-1/2 years in Korea when John Kennedy was president. Played baseball in the summer (All-Army team) and drove a jeep for a General in the winter. From there was transferred to Indiantown Gap, Pennsylvania and met my future wife at a dance, which is surprising because I was basically shy in high school. We were married on January 12, 1964 and have been married for 53 years. Some of my interests are -- Golf, reading sports books/magazines, umpiring baseball/softball (forty years). Favorite teams are Dodgers (most classmates know this); Boston Celtics, New York Giants (football), Fighting Irish of Notre Dame, Washington Huskies (of course) and Duke University basketball. I also coached Little League, Junior/Senior Legion Baseball for a number of years.


Classreport.org provides free Class Websites for every graduating class of every high school with free access for all.
We are one of the premier social networking sites dating back to 2003. We are a small, family-owned business and yet freely host over a million class websites. Our Story
Classreport holds a special place in the hearts of our users: Bravos.
Class Support Status

Our Class Site is Fully Funded!
Additional contributions are welcome and will be used to provide support for the larger Classreport community.
CLICK HERE TO LEARN MORE
Class Directory

Where in the world are you? Stats
Recent Profile Updates
| | |
| --- | --- |
| | Aug 2 |
| | Jul 17 |
| | Jun 17 |
| | May 20 |
| | May 15 |
| | May 15 |
| | May 15 |
| | May 13 |
Class Poll
There is no Active Poll
at this time.
Recent Reviews
There are no reviews on file
at this time.
This area is for comments on
books, movies, music,
restaurants, etc.
Visit Other Classes
The Office
(Admin use only)
If you have any questions or comments regarding this website, please contact:

Class Administrator
Barbara Dowen Lindberg

Would you like a sneak peek at a
non-functioning view of The Office?

This class reunion website is a complementary addition to your existing alumni resources.
It is a product of Classreport, Inc. and may not be affiliated with Everett High School or its alumni association.

Does your High School Class have a full-featured Alumni Website? Start One Now!
(Or start one for your Mother, Father, Sister, Brother, Spouse, Son, Daughter, Friend . . .)



"Just discovered your product today while trying to locate classmates ahead of our 50th reunion in 2020. The fact that you did this in a noncommercial manner in a world where everything has a price tag deserves recognition and respect, in my view. Thank you and good luck in all your endeavors." 5/5/2018


"THANKYOU so much for handling this for us! We are so appreciative! It looks GREAT!" 5/2/2018


"Thank YOU for helping us get the word out! I've posted a link to the website on our FB group page and vigorously encouraged other classmates to contribute" 4/27/2018


"Your site is amazing. Kudos to you and your staff. You have benefitted so many high school alumni in organizing their class reunions." 10/4/2017


"Thanks to classreport.org our class website played a huge part in the success of our Reunion. We greatly appreciate your wonderful support." 10/3/2017


"Thanks for all your hard work and ingenious spirit." 9/25/2017


"Thanks guys, you are Good!!" 9/23/2017


"I love your service and will continue to support you." 9/14/2017


"We have been using the website for more than 10 years now. It's still the best website out there for classmates to meet, collect their info and advertise their reunions. Thanks for inventing it all!" 9/11/2017


"Thank you for your assistance. It was very helpful. Looks good!" 9/5/2017



More bravos at: www.classreport.org/bravos




20th Anniversary!
There are no fees required for participation on this site.
Please support this site with your voluntary contributions.
We cannot provide this service without your support. Thank You!
Please read Our Story
ClassTraQ 11.003 Software Copyright � 2003 - 2017 Classreport, Inc. All Rights Reserved e1 amsc: 1