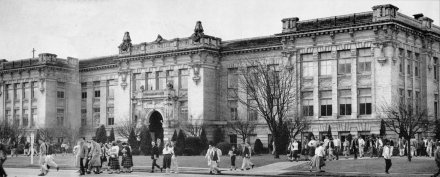 "Never before and never again"


This site is operated and funded by members of our class.
Class Administrator: Barbara Dowen Lindberg
Page Hits: 37,483


Class News

8/25/2016
Early Everett Photos
Here are 225 Historic Everett photos from the Everett Public Library's collection. Many are from the 1940s and 1950s. They were compiled by '59-er Tom Gaines. For the moment they are not . . . Continued

6/9/2016
EHS Nesika now online.
The complete (almost) collection of Everett High School Nesika yearbooks from 1909 through 2013 is now available online. The Everett Public Library, in cooperation with EHS, arranged for th . . . Continued

1/13/2011
«« We Are All Here Now »»
When the EHS '59 administrators first set up our class presence here, we worried that some people may be concerned about privacy issues on the internet, so we decided that everyone who wante . . . Continued


August 19, 2021 - Legion Park - Noon to 4:00 PM

We will gather to celebrate

The 4-TH ANNIVERSARY OF OUR 20-TH BIRTHDAY's.

Be There or Be Square!

Everett High School Birthday Committee Meeting December 13, 2020

The meeting was convened at 5:00 p.m.

by Cec Stenning, via Zoom. Members present were: Cec Stenning, Tom Gaines, Ann Purnell, Barbara Lindberg, Barb Cashen, Ron Ericksen, Mary Carlson, Nancy Hanks, Connie Gurvitz, and Carol Forsberg. Carol Cassidy could login, but could not any vocal communication activated. Class of 1959 Update – Barbara Lindberg reported that the verified deaths of classmates has now reached 222. Treasurer's Report - Ann reported that the balance in our account is $3,508.22. 80th Birthday Party – The consensus of those present were in favor of holding the party at Legion Park on Thursday, August 19, 2021, from approximately 1:00-5:30. •    Ann will call and find out whether that date is available and inquire about the deposit needed to reserve. •    Mary will send out one mailing only around May 1st. •  Menu suggestions were along the same lines as our last gathering at Legion Park, such as Firehouse Subs, Jersey Mike's Subs, Costco sandwiches, potato salad, chips, cake, etc. We did not discuss how we would handle beverages. We all agreed to be looking at options and pricing before the next meeting. •  Suggested price was $10.00 per person, depending on the menu decided upon. •    Other suggestions included the possibility of a classic car show, if a classmate wants to chair that, and maybe some music. •    Next meeting, via Zoom, is scheduled for Sunday, Feb. 21st, 2021, 5:00 p.m. Minutes submitted by Barbara (Dowen) Lindberg ****************************************** ******************************************

Everett High School 60th Reunion Follow-Up Committee Meeting October 9, 2019 The meeting was convened at 4:15 p.m. by Cec Stenning at Alfy's Pizza in Everett, with pizza provided by our class treasury. Members present were: Cec Stenning, Ann Purnell, Barbara Lindberg, Al Lansing, Barbara Cashen, Ron Ericksen, Judy Morrison, Mary Carlson, Larry Bielser, Bernie Nelson, John Kuljis, Helen Esswine, Nancy Hanks, Carol Cassidy, Connie Gurvitz, Jeannie Geddis, and Dave Ramstad. Treasurer's Report - Ann reported that the balance in our account is $3,283.59. The bus trip made $25.00; the cakes cost $60.00; the total cost to the class was $64.11, including envelopes, stamps, copies, etc.; and there were 142 attendees. Reunion Reviews - The reviews that the committee received were very good; people enjoyed the venue; the lunch received rave reviews; the band was an added bonus The golfing was enjoyed by all the golfers (10-12 golfers), in which Ned Hill was the winner. The bus tour also received excellent reviews; and Scuttlebutt's Brewery was the perfect place for a meal, drinks, and conversation after the tour. All in all, the 60th EHS Reunion was a hit with all who attended. Minutes submitted by Barbara (Dowen) Lindberg ******************************************

THE EHS'59 60-YEAR REUNION

THE MAIN EVENT

Date: Thursday, August 22, 2019

Place: Everett Golf & Country

Time: 12:00 noon - 4:00 pm

Cost: $40.00 per person*

Additional Activities: Thursday August 22: Golf: Bob Trosvig is organizing a golf opportunity at EGCC for 9 holes of golf with a tee time of 9:00a.m. on the 22nd before the lunch. Cost for this will be $40.00 per golfer, plus $10.00 per person for a 2-person golf cart. Friday August 23: Everett Bus Tour: For Friday, the 23rd we have planned a bus tour of Everett to highlight some of Everett's history, along with pointing out the changes and development in Everett since 1959. This trip will begin by Scuttlebutt Brewing Restaurant, 1205 Craftsman Way, #101, Everett, at 1:00 and will take 2 hours to complete. The tour will end back at Scuttlebutt's, which may be a fun place to continue visiting with classmates. Chinook Charters will be providing the tour to the first 55 people who sign up. Finally: Best wishes to all 59ers from your committee. Your Class Reunion Committee ****************************************** Tom Gaines and Barbara (Dowen) Lindberg have the responsibility of keeping up our information on our class website-Classreport.org If you have any updates please contact Tom: 425-481-3431; email: [email protected] or Barbara: 425-245-8343; email: [email protected]



- - - - - - - - - -

August 2016 Birthday Party Photos

Pictures that Tom Gaines' wife Chris took at our 75th Birthday Party can be seen here: 75th Party Photos


- - - - - - - - - -




Today's Featured Biography
Married 54 years, Colleen and I have two sons. Sean and his family live in Snohomish, WA. Eric and his family live in Apex, NC.In addition to our four grandchildren, we are "grandpa and grandma the great" to our two great-granddaughters and one great-grand son.
After graduation from Western Washington State College I spent 6 1/2 years as a pilot in the United States Marine Corps serving one tour in Vietnam. Following the Marine Corps I held various software engineering management positions with companies in Califorina, Mississippi, Washington and England.
Colleen and I both retired in 1996, sold everything and are currently traveling in our third motor home with our second Golden Retriever traveling companion. We have traveled extensively in every state, except Alaska, and our planning our Alaska trip for next summer. We spend our winters in Mexico, Florida and Southern California where it's nice and sunny. The last eight years we have spent the winters in the Palm Springs, CA area.


Classreport.org provides free Class Websites for every graduating class of every high school with free access for all.
We are one of the premier social networking sites dating back to 2003. We are a small, family-owned business and yet freely host over a million class websites. Our Story
Classreport holds a special place in the hearts of our users: Bravos.
Class Support Status

Our Class Site is Fully Funded!
Additional contributions are welcome and will be used to provide support for the larger Classreport community.
CLICK HERE TO LEARN MORE
Class Directory

Where in the world are you? Stats
Recent Profile Updates
| | |
| --- | --- |
| | Apr 9 |
| | Apr 9 |
| | Mar 24 |
| | Mar 22 |
| | Mar 18 |
| | Mar 7 |
| | Feb 27 |
| | Feb 26 |
Class Poll
There is no Active Poll
at this time.
Recent Reviews
There are no reviews on file
at this time.
This area is for comments on
books, movies, music,
restaurants, etc.
Visit Other Classes
The Office
(Admin use only)
If you have any questions or comments regarding this website, please contact:

Class Administrator
Barbara Dowen Lindberg

Would you like a sneak peek at a
non-functioning view of The Office?

This class reunion website is a complementary addition to your existing alumni resources.
It is a product of Classreport, Inc. and may not be affiliated with Everett High School or its alumni association.

Does your High School Class have a full-featured Alumni Website? Start One Now!
(Or start one for your Mother, Father, Sister, Brother, Spouse, Son, Daughter, Friend . . .)



"Just discovered your product today while trying to locate classmates ahead of our 50th reunion in 2020. The fact that you did this in a noncommercial manner in a world where everything has a price tag deserves recognition and respect, in my view. Thank you and good luck in all your endeavors." 5/5/2018


"THANKYOU so much for handling this for us! We are so appreciative! It looks GREAT!" 5/2/2018


"Thank YOU for helping us get the word out! I've posted a link to the website on our FB group page and vigorously encouraged other classmates to contribute" 4/27/2018


"Your site is amazing. Kudos to you and your staff. You have benefitted so many high school alumni in organizing their class reunions." 10/4/2017


"Thanks to classreport.org our class website played a huge part in the success of our Reunion. We greatly appreciate your wonderful support." 10/3/2017


"Thanks for all your hard work and ingenious spirit." 9/25/2017


"Thanks guys, you are Good!!" 9/23/2017


"I love your service and will continue to support you." 9/14/2017


"We have been using the website for more than 10 years now. It's still the best website out there for classmates to meet, collect their info and advertise their reunions. Thanks for inventing it all!" 9/11/2017


"Thank you for your assistance. It was very helpful. Looks good!" 9/5/2017



More bravos at: www.classreport.org/bravos




18th Anniversary!
There are no fees required for participation on this site.
Please support this site with your voluntary contributions.
We cannot provide this service without your support. Thank You!
Please read Our Story
ClassTraQ 11.003 Software Copyright � 2003 - 2017 Classreport, Inc. All Rights Reserved e1 amsc: 1