No Ads. No Spam. No Pop-Ups. No Fees. Read Our Story.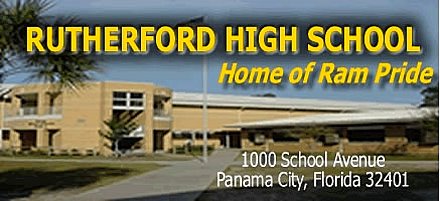 This photo can be changed by your Class Administrator.


This site is to be operated by members of our class.
We need a Class Administrator.
CLICK HERE TO LEARN MORE OR TO VOLUNTEER

Page Hits: 7,205




Class News

5/30/2010
Barney Cliiff Gay passed away
Barney Cliff Gay (1946 -2010) Barney Cliff Gay passed away Wednesday, May 19, 2010. Barney was born in Orlando, Fla., on Dec. 6, 1946, and moved to the Panama City area a year later. . . . Continued

10/11/2007
Mrs. Wesley, a former Teacher at RHS has passed on
Sara Frances Colvin Wesley, 86, passed away in a local nursing home Wednesday, Oct. 10, 2007. She was born in Danville, Ky., on Nov. 16, 1920, to Charles Elmore and Eula Katherine Harrell Co . . . Continued


PLEASE note that your class site NEEDS a volunteer to maintain it! I'm the Site Coordinator for all Rutherford Classes but someone from your class is encouraged to click the Volunteer link above!!!
I'll be glad to give you tips on maintaining the site! Pam McCusker, RHS Site Coordinator
If this is your first time at Classreport, locate the "First visit here?" link and then locate your name (if it's not listed, then click the first letter of your last name and then at the top of the next page you'll see "Click here to add your name), click on your name, submit your working email address and a password. You'll then see Your Profile, click on it and you can submit as much information as you want. If you run into any problems just email me at Pam McCusker, Site Coordinator and I'll be glad to help you!Disclaimer: I'm not calling anyone a dummy, this is for promotional purposes only!


---
Today's Featured Biography
I always think of us as the bridge between the old ways and the new ways. I remember being tapped for "National Honor Society" as a JR and "Beta Club" as a SR in High school but not joining because my father was old fashioned and did not believe in the education of women and did not feel they were important. As the oldest daughter (three sisters all who graduated from RHS) and headstrong I wanted to go to college. After his "over my dead body" response when I said nursing he agreed to teacher if I would pay for it myself. I worked a year saving $800 for a full year of college which included books,room and board,(my granddaughter starts college this fall and her tuition is $17,000 plus per year and she still lives with her mother!!) and headed for the dorm a year behind you all. Did not get my BS in elementary education but I did get an Mrs. and was married Sept 1966.
(Just a note we have three daughters and all three are nurses and our son went to college for Business Administration. While we have been married my husband finished his 4 year degree in business and I went from Mrs. to Mommy and then Grandma! )
Dick was in the USAF but not your typical SGT. I expected base housing, bowling on Tuesdays and Bingo on Wednesdays but Dick had other ideas. He would always buy us a home in the country and because of that we had (at different times) chickens, geese, a horse, goats and a array of dogs and cats. We were organic gardening, home schooling our four children, and flipping houses long before they became themes for hit reality shows
We did live all over the world which allowed us to backpack at the base of the ALPS, run for our lives from a forest fire in California, and watch a moose eat from a tree in our yard in Alaska just to name a few of our "in the old days" stories to tell our 9 grandchildren
When I turned 50 Dick decided to sell our home and move to TN to start a business from scratch with our son. Well that made me a homeless grandmother as he also decided "we" would build the home of our dreams ourselves that same year. We bought 15 acres of undeveloped wooded area and immediately found out I was highly allergic to poison ivy, scared silly of snakes, and unable to climb ladders and walk across planks without shaking uncontrollably(my flipping houses experience consisted of wallpapering, painting and cleaning up the mess not building from scratch!!). No use to him at all, not even when he asked me to pick up tree limbs to put in a pile, I immediately fell in a hole and could not walk for six weeks! Dick is laying floors at the house as we speak and we hope to move in later this year. Yes it has taken 12 years (we live in our daughter's rental) but Dick is stubborn and really wanted to build it himself!
I like this website because over the years I had always wondered how everyone was doing. Did Glenda Gainor marry Billy Fussell, did Linda Hurt became a nurse or Ace Carlson attended a military academy just to name a few that I can remember. Love to hear from anyone who remembers me.


Classreport.org provides free Class Websites for every graduating class of every high school with free access for all.
We are one of the premier social networking sites dating back to 2003. We are a small, family-owned business and yet freely host over a million class websites.
Classreport holds a special place in the hearts of our users: Bravos.
We are funded solely through your voluntary contributions. Can you help us keep this site online and ad-free for another year? Thank you for your support!
Please click here to contribute.
No Ads, No Spam, No Pop-ups, No Fees.
Class Support Status

Our Class Site is Fully Funded!
Additional contributions are welcome and will be used to provide support for the larger Classreport community.
CLICK HERE TO LEARN MORE
Class Directory

Where in the world are you? Stats
Recent Profile Updates
| | |
| --- | --- |
| | Sep 30 |
| | Sep 29 |
| | Sep 28 |
| | Jan 16 |
| | Jan 15 |
| | Apr 15 |
| | Jul 15 |
| | Dec 10 |
U.S. Armed Forces
Active and Veterans

Please update your profile to be
included in this section.

0 from Our Class

41 from Our School

Class Poll
There is no Active Poll
at this time.
Featured Links
There are no Featured Links
at this time.
Recent Reviews
There are no reviews on file
at this time.
This area is for comments on
books, movies, music,
restaurants, etc.
Visit Other Classes
The Office
(Admin use only)
If you have any questions or comments regarding this website, please contact:

Class Administrator
We Need a Volunteer

RHS Site Coordinator
Pam McCusker
Class of 1977

Would you like a sneak peek at a
non-functioning view of The Office?

This class reunion website is a complementary addition to your existing alumni resources.
It is a product of Classreport, Inc. and may not be affiliated with Rutherford High School or its alumni association.

Does your High School Class have a full-featured Alumni Website? Start One Now!
(Or start one for your Mother, Father, Sister, Brother, Spouse, Son, Daughter, Friend . . .)



"This site has helped my class members and I connect with each other that otherwise would not have been possible. We are already starting to plan our next Reunion. Thank you for this website." 5/28/2016


"Thank you for your response to my questions. I appreciate your very kind response and I am very happy with Classreport." 5/20/2016


"Your site works well - easy to navigate and update. Thanks for this service." 5/20/2016


"Thanks Classreport and thanks to our class for sustaining such a great site." 5/14/2016


"The effort you make to keep this site free from ads and intrusive information is greatly appreciated. I prefer your website over the others out there. Keep up the great work." 5/12/2016


"Nice site!" 5/6/2016


"Here is a very big thank you for all that you do at Classreport!" 5/2/2016


"It's amazing to me how we can all stay connected through this. Thank You." 5/1/2016


"Thanks for putting together great websites for alums to enjoy. Great job!!" 4/28/2016


"You have good information here and the administrator page is a good source of info." 4/7/2016



More bravos at: www.classreport.org/bravos




13th Anniversary!

Search All Schools Best Classes Reunions Features Setup Your Class FAQ Funding Our Story Support Privacy Policy We DO NOT sell advertising to support this site. We DO NOT sell names and addresses to third parties.
There are NO POP-UP ads. There are no registration fees required for participation.
Please support this site with your voluntary contributions.
We cannot provide this service without your support. Thank You! Read Our Story

ClassTraQ 9.7003c Software Copyright © 2003 - 2015 Classreport, Inc. All Rights Reserved e1