Dear Classreport Users:
We are one of the premier social networking websites dating back to 2003. We are a small, family-owned and operated business with less than 15 staff, yet we freely host over a million class websites. Classreport holds a special place in the hearts of our users (See
Bravos
). We are funded solely through voluntary contributions. Despite our small size, we have the same costs as any other site: servers, security, software, and staff. So we are asking for your support. If everyone reading this gives $15, our fundraiser will be over in one day. If Classreport is useful to you, take one minute to keep it online and ad-free for another year. Thank you for your support.
Click here to help out now
.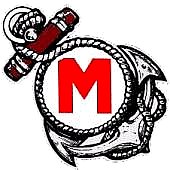 Ships
12th Anniversary!
No Ads. No Spam. No Pop-Ups. No Fees. Read Our Story.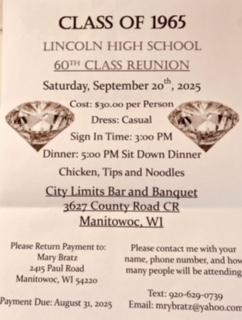 This site is operated and funded by members of our class.
Class Administrator: JELAINE WAAK PETERSON
Page Hits: 11,963


65 Year Reunion Announcement!
---
52nd CLASS PICNIC
Saturday, August 5, 2017
THE MANITOWOC YACHT ,815 MARITIME DRIVE,MANITOWOC,WI.54220
MORE DETAILS LATER!
Food will be catered in by Jim Vunk.Cost will following in emails & invitations to those classmates that we don't have email's for.Watch for emails after May 2016.
More Information: Click To Open
Event Contact: MARY ELLEN (HEINRICHS)BRATZ
Look Who's Coming!
Make Checks Payable To: LHS/MARY BRATZ
Mail Payment To: MARY BRATZ , 2459 BALLYVAUGHN ROAD
---
Today's Featured Biography
I am happy to share my last 50 years with friends and schoolmates of the class of 1965. It was a different world back then but I find that I remember classmates, who I only spent three or four years with, more clearly than friends, neighbors and associates who I have spent much longer times with. It must have been an impressionable time and I am looking forward to catching up with everyone during the reunion this fall.

After high school, I attended MSOE in Milwaukee and earned an undergraduate degree in electrical engineering. During that time I also married my high school sweetheart Rita Soucy. Most of you will probably remember Rita better than me. She knew more people at Lincoln than I did. I am proud to say that we will be celebrating our 47th anniversary in July. In 1970, after graduation from MSOE, we moved to the Minneapolis area where we have lived ever since. Rita is still a Packers fan but the rest of our family have long ago converted to Vikings, Twins, Wild and Timberwolves fans. We have as much fun complaining about how badly our teams play as we do when they are winning. Rita still wears the green and gold on game days and makes excuses for the Packers.

I started my career in 1970 With Northern States Power, now Excel Energy, the local power company. In 1979, I moved on to Honeywell and worked as a facilities engineer and manager until 1990. During that period I went back to school and earned an MBA at the University of Minnesota, Carlson School of Business. Shortly after that, I transferred to Alliant Techsystems, a spinoff of Honeywell and worked as director of facilities and construction until 1997. In 1997, after a merger of the company, it was decided to outsource my whole department. During that period I was contacted by an engineering firm named Williams Engineering. The Founder, Tom Williams, wanted to retire and knew I was going to be available. I needed a job and the offer sounded reasonable. After working as an employee, I purchased the company in 2000. It is unclear if the Founder brought me on board because of my last name or because of my capabilities.

I continue to work as the President of Williams Engineering and I keep looking for a reason to retire. I basically like what I am doing and we are involved in some interesting projects including work on the new Vikings Stadium and solar power installations around the State. I now work out of my home 2 to 3 days a week and go in to the office only after rush hours. With Rita retired in July, we plan to travel and I am set up to work virtually wherever I can find an internet connection.

I would say that our greatest accomplishment has been raising our two sons Nick and Blake. Nick is 41, and works as regional manager for a company that installs and maintains cloud data centers. He and his beautiful wile Anna have two children – Maria 10 and Miller 9. Blake, our younger son, is 32 and is a HR manager for Target. He and his gorgeous wife Bre have one child – Louie 1. We are blessed that both families live in the Twin Cities area so we get to see them often.

Through the years, I have had several hobbies including motorcycling, camping, sailing and more recently golfing and attending our grandkids soccer and hockey games. I have not ridden motorcycles for many years but I still keep my motorcycle drivers license rating. In the 1970's I competed in off-road motorcycle events called Enduros. My motorcycle adventures started with a Honda 150 that I bought from Steve Heide when I was home from college. The off-road motorcycling evolved to camping with the family until Rita announced that she had had enough of camping except at motels. After that the kids and I carried on the tradition until they got too busy with youth sports. Sometime during that period, I became hooked on sailing while spending time with Rita's parents in Door County and ended up going through several boats and racing on Minnesota Lakes through the 90's. I still sail casually with friends and have chartered in the Apostle islands. While I am still, more or less, working a full schedule, my main extracurricular activities now are biking, golfing and attending our grand kids events. Both Rita and I are looking forward to more travel while we still can.

I have signed up for the golf outing, but as it was on our Shipbuilders football team, do not expect too much Pat. I have told the story for years that our football team's greatest accomplishment was when Bob Reseburg broke Head Coach John Heineke's leg while Coach was demonstrating how to defend against a down field block during practice.

As I write this, I find the years fading away and my spirit back at Lincoln High in 1965. "If only we didn't know now what we didn't know then" - Bob Seger – "Against the Wind" 1972. Rita and I are both looking forward to seeing you all this fall. We hope you can make it.



Classreport.org provides free Class Websites for every graduating class of every high school with free access for all.
We are one of the premier social networking sites dating back to 2003. We are a small, family-owned business and yet freely host over a million class websites.
Classreport holds a special place in the hearts of our users: Bravos.
We are funded solely through your voluntary contributions.
No Ads, No Spam, No Pop-ups, No Fees.
Class Support Status

Our Class Site is Fully Funded!
Additional contributions are welcome and will be used to provide support for the larger Classreport community.
CLICK HERE TO LEARN MORE
Class Directory
| | | |
| --- | --- | --- |
| | | |
| | 633 | |
| | 5 | |
| | 130 | |
| Total On File: | 768 | |
| | | |
| | 0 | |

Where in the world are you? Stats
Recent Profile Updates
| | |
| --- | --- |
| | May 26 |
| | May 23 |
| | May 20 |
| | May 11 |
| | May 11 |
| | May 4 |
| | Apr 28 |
| | Apr 23 |
Class Poll
There is no Active Poll
at this time.
Featured Links
There are no Featured Links
at this time.
Visit Other Classes
The Office
(Admin use only)
If you have any questions or comments regarding this website, please contact:

Class Administrator
JELAINE WAAK PETERSON

Would you like a sneak peek at a
non-functioning view of The Office?

This class reunion website is a complementary addition to your existing alumni resources.
It is a product of Classreport, Inc. and may not be affiliated with Lincoln High School or its alumni association.

Does your High School Class have a full-featured Alumni Website? Start One Now!
(Or start one for your Mother, Father, Sister, Brother, Spouse, Son, Daughter, Friend . . .)



"I love your site. Keep up the great work!" 1/27/2016


"I've really enjoyed reading updates on the website and hearing so many of my class members are doing so well." 1/20/2016


"This is awesome!" 1/12/2016


"This is such a great resource. Thank you!" 1/10/2016


"Thank you for your great customer service. I wish this technology was available back when we were planning our first reunions. We are looking forward to getting my wife's class page updated as well." 12/20/2015


"Thank you for doing this. I so enjoy keeping up with all my friends." 12/7/2015


"I think this is a very good site. Thanks for putting it together!" 11/30/2015


"Thanks again for all you do for classreport.org. It is a great service for us and other classes." 10/15/2015


"You all are doing a great job!" 10/10/2015


"On behalf of our class thank you for the wonderful free service you provide to our classmates via our web site you support.This is a very good service!" 10/9/2015



More bravos at: www.classreport.org/bravos




12th Anniversary!

Search All Schools Best Classes Reunions Features Setup Your Class FAQ Funding Our Story Support Privacy Policy We DO NOT sell advertising to support this site. We DO NOT sell names and addresses to third parties.
There are NO POP-UP ads. There are no registration fees required for participation.
Please support this site with your voluntary contributions.
We cannot provide this service without your support. Thank You! Read Our Story

ClassTraQ 9.7003c Software Copyright © 2003 - 2015 Classreport, Inc. All Rights Reserved e1