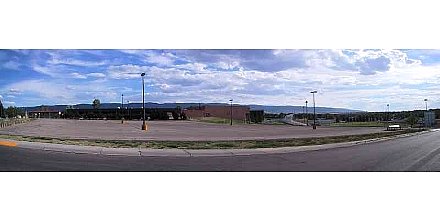 This photo can be changed by your Class Administrator.


This site is operated and funded by members of our class.
Class Administrator: Phoebe Woodell Bollin
Page Hits: 44,358


50 Year Reunion Announcement!
---
********Registration & Cocktail Ice Breaker ******** (Slider Station-Quesadilla Station - Cash Bar)
Friday, June 21, 2019 - 7:00 pm
CASPER EVENTS CENTER - SUMMIT ROOM
Weekend Package $80 PP * Friday Icebreaker Only $33 PP * Saturday Banquet Only $55 PP
We hope you will join us for this milestone weekend!

50 years... really hard to believe isn't it? I don't know about you all; but my mind thinks I'm 29, and my body tells me differently!

I do know that the friendships I made 50 years ago endure, and that classmates I have come to know at past reunions are some of my best friends.

Please register for each event by clicking the "Register Online" button. This will let us know you are coming.

You may pay for the events with PayPal or Credit Card, just choose the option you want above the yellow "Add to Cart" button below.

If you prefer to pay by check, please look below for the "Click Here For Reunion Documents" link. From here you can print out the flyer to fill out and mail in with your payment. You might want to print this form just as a schedule of events.

We are working on optional events for Saturday afternoon, and will post them as soon they materialize. We have a few surprises up our sleeves!
Look Who's Coming!
---
No Host Cocktail Hour followed by Dinner & Music (Prime Rib or Grilled Salmon - Cash Bar)
Saturday, June 22, 2019 - 6:00 pm
CASPER EVENTS CENTER - SUMMIT ROOM
Weekend Package $80 PP * Friday Icebreaker Only $33 PP * Saturday Banquet Only $55 PP
Event Contact: Phoebe Bollin
Look Who's Coming!
Make Checks Payable To: KW Class of 1969
Mail Payment To: KW Class of 1969 PO BOX 55 Casper, WY 82602
---
Class News

3/1/2019
We Did It!
Thanks to your generous contributions our class is fully funded for life! We have successfully funded our class through our 50th year following graduation. From now on, Classreport.org pic . . . Continued

11/7/2018
Class News
I am absolutely heartbroken to post the announcement that our classmate Dave Bauer passed away on October 26th. Many of you have already heard the news, and I apologize for it taking me so l . . . Continued

10/22/2014
Mark Benton
It breaks my heart to tell you that our classmate and friend Mark Benton passed away on October 11, 2014 Our thoughts and prayers are with Kathy and their children, Neal and Candy. Mark and . . . Continued


Our Class Message Board
Your participation is requested!
We would like to hear from you. Post your messages here.

ADD NEW VIEW ALL

Indicates an included photo
Today's Featured Biography
A half-century--can it really be? I never imagined this day would come. When you're 18 years old you don't think about
50 years into the future. I believe we still qualify as middle-aged, but just barely!

Our 20th is the only "official" class reunion I've attended. Last July I had fun at a mini-reunion hosted by Dave Bauer. Rest in Peace, Dave.

After graduation I went to CC for a semester off and on (mostly off.) At that time I wasn't interested in broadening my education or horizons, and dropped out. I continued to work part time at Albertson's, a job I'd had for several years, and bummed around wondering what to do with myself. I got married for the first time and took a job at Hilltop Bank, where I worked for 2 years, left when my daughter, Amber, was born. I divorced and returned to the bank where I worked for another 2 years. I then accepted a position at a stock brokerage firm, a career that lasted 17 years. Was a registered broker when I retired from the lightning paced, stressful world of the "Bears" and "Bulls", and was relieved to leave them behind.

From the time I can remember, I've had a special place in my heart for senior citizens and young children, and did an about-face from working with stocks & bonds when I decided I wanted to work with these populations. Earned a BS in Social Work from UW/CC and took a job as case manager at Big Brothers Big Sisters of Central Wyoming. Matching the "Bigs" with the "Littles" was gratifying; I hope I made a difference. 2 years later I lost the job when the Casper office went broke and closed. I married Bud and inherited my stepson, Charlie. Took a position at NCSD as librarian at an elementary school for 8 years where I taught library skills and shared my love of reading with the little ones.

After a 25 year career with the Federal Government, Bud retired five years ago. He was born & raised in a farming community in SD, and farming is his main interest and hobby. He's always looking to buy and sell farm equipment. We travel some, and share as much time as we can with our families, especially our kids. We have no grandchildren but do have a tabby cat, Kitty, who is a daily light in my life.

Charlie owns a mechanic business and Amber lives in Texas, working as a physical therapist. She lived and worked in UT for 3 years, until her apartment burned down last fall; she lost all of her possessions. Words cannot express my relief and gratitude that she escaped, and later in the day her 2 cats were rescued. I thank God every day. After this most traumatic experience she decided she needed a total change of scenery to begin her life anew. For a variety of reasons she chose Texas, and her employer transferred her to one of their offices down there.

I enjoy needlework (cross stitch) and reading; keeping an art journal; taking OLLI classes at UW every semester; fun get-togethers with friends.

I work as a volunteer at our local Senior Center, going on 6 years. I write memoirs, it's amazing the things you remember when you begin this process! My sisters and I are researching our genealogy and, through Ancestry, we've gone back to 1700's on both maternal and paternal sides. I also belong to the Writing Club at NC Library.

Am trying to dig out and get rid of dusty, decades-old stuff in my house. Have been a die-hard addict of Game of Thrones since its inception, 8 years ago, and am bummed this is the last season! Who will take the Iron Throne?

I'm looking forward to catching up with you next month! In the meantime, have fun and be safe.



We are out of leads for the following classmates. If you know how we can reach them, please email [email protected]






Family News Summary
Enter your Family News Item choosing from our pre-defined categories:
Anniversary, Award, Birth, Death, Diagnosis, Engagement, Graduation, Lottery, Retirement, Vacation, Wedding, Other.
Engagement
Greg Kerr (KWHS '70) & Vicky Zeiler (KWHS '69) bec
Posted by: Vicky Zeiler Kerr

11/2/2009

Death
We are saddened to note the passing of our classma
Posted by: Phoebe Woodell Bollin

1/16/2008
Calendar
There are no Calendar items on file
at this time.

Today's Featured Class Member Website
Classreport.org provides free Class Websites for every graduating class of every high school with free access for all.
We are one of the premier social networking sites dating back to 2003. We are a small, family-owned business and yet freely host over a million class websites. Our Story
Classreport holds a special place in the hearts of our users: Bravos.
Class Support Status

Our Class Site is Fully Funded!
Additional contributions are welcome and will be used to provide support for the larger Classreport community.
CLICK HERE TO LEARN MORE
Class Directory

Where in the world are you? Stats
Recent Profile Updates
| | |
| --- | --- |
| | May 22 |
| | May 21 |
| | May 19 |
| | May 17 |
| | May 16 |
| | May 15 |
| | May 7 |
| | May 6 |
Class Poll
There is no Active Poll
at this time.
Recent Reviews
There are no reviews on file
at this time.
This area is for comments on
books, movies, music,
restaurants, etc.
Visit Other Classes
The Office
(Admin use only)
If you have any questions or comments regarding this website, please contact:

Class Administrator
Phoebe Woodell Bollin

Would you like a sneak peek at a
non-functioning view of The Office?

This class reunion website is a complementary addition to your existing alumni resources.
It is a product of Classreport, Inc. and may not be affiliated with Kelly Walsh High School or its alumni association.

Does your High School Class have a full-featured Alumni Website? Start One Now!
(Or start one for your Mother, Father, Sister, Brother, Spouse, Son, Daughter, Friend . . .)



"Just discovered your product today while trying to locate classmates ahead of our 50th reunion in 2020. The fact that you did this in a noncommercial manner in a world where everything has a price tag deserves recognition and respect, in my view. Thank you and good luck in all your endeavors." 5/5/2018


"THANKYOU so much for handling this for us! We are so appreciative! It looks GREAT!" 5/2/2018


"Thank YOU for helping us get the word out! I've posted a link to the website on our FB group page and vigorously encouraged other classmates to contribute" 4/27/2018


"Your site is amazing. Kudos to you and your staff. You have benefitted so many high school alumni in organizing their class reunions." 10/4/2017


"Thanks to classreport.org our class website played a huge part in the success of our Reunion. We greatly appreciate your wonderful support." 10/3/2017


"Thanks for all your hard work and ingenious spirit." 9/25/2017


"Thanks guys, you are Good!!" 9/23/2017


"I love your service and will continue to support you." 9/14/2017


"We have been using the website for more than 10 years now. It's still the best website out there for classmates to meet, collect their info and advertise their reunions. Thanks for inventing it all!" 9/11/2017


"Thank you for your assistance. It was very helpful. Looks good!" 9/5/2017



More bravos at: www.classreport.org/bravos




16th Anniversary!
There are no fees required for participation on this site.
Please support this site with your voluntary contributions.
We cannot provide this service without your support. Thank You!
Please read Our Story
ClassTraQ 11.003 Software Copyright � 2003 - 2017 Classreport, Inc. All Rights Reserved e1 amsc: 1